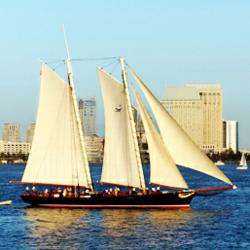 You have to act when you hear participants claiming that this program is essential for every medical staff leader to attend.
San Francisco, CA (PRWEB) February 27, 2012
Stepping Up To Leadership - IMQ/PACE Platinum Level Training Program For Physician Leaders received such critical acclaim last year that the Institute of Medical Quality, University of California San Diego's Physician Assessment and Clinical Education (PACE) program and The Physicians Foundation agreed to offer this physician leadership training program again this year.
In announcing their decision to offer this program in 2012, IMQ's Chairman, John Kusske, MD stated: "You have to act when you hear participants claiming that this program is essential for every medical staff leader to attend."
Designed for new or experienced medical staff leaders, the Stepping Up to Leadership program helps physicians hone the skills they need to build consensus among departments, navigate legal challenges and hold critical conversations concerning an impaired colleague. It also teaches them to run a productive committee meeting, link PI data with privileging decisions, and manage a physician who exhibits disruptive behavior. This year's program features Diane Kenny, a nationally renowned speaker on effecting behavioral change in organizations.
William A. Norcross, MD, PACE Program Director, believes that Stepping Up to Leadership creates an interactive learning environment which empowers physicians to be effective.
Louis J. Goodman, PhD, President of The Physicians Foundation, stated: "We are pleased that this stellar program will be offered for the second year in a row. It is critical for physicians to hone the skills they need to thrive in today's rapidly evolving healthcare environment."
The program will be held March 8-10 at the Coronado Island Marriott Resort & Spa in San Diego. Brochures and registration information are available at physician-leadership.org or by contacting Leslie Ann Iacopi, Program Administrator at (415) 882-5167 or liacopi(at)imq(dot)org or on the IMQ website at: Educational Programs - Medical Staff Leadership
About The Institute for Medical Quality
The Institute for Medical Quality is a 501(c)(3) non-profit subsidiary of the California Medical Association. Its mission is to be an innovative leader in improving the quality of care provided to patients across the continuum of health care by encouraging, developing and implementing programs which effectively measure and improve the quality of care provided to people in California and beyond. Visit imq.org for more information.
About UCSD PACE Program
The Physician Assessment and Clinical Education (PACE) Program at UC San Diego was founded in 1996 to promote a culture of ongoing quality improvement and professional development in the medical field. The PACE Program is the largest assessment and remediation program for healthcare professionals in the country and has provided services to more than 2,000 physicians and medical professionals in the country. The PACE Program also offers physician monitoring services through its Physician Enhancement Program (PEP) and continuing education courses. Visit paceprogram.ucsd.edu for more information.
About The Physicians Foundation
The Physicians Foundation is a nonprofit 501(c)(3) organization that seeks to advance the work of practicing physicians and to improve the quality of healthcare for all Americans. It pursues its mission through a variety of activities including grant-making, research and policy impact studies. Since 2005, The Foundation has awarded numerous multi-year grants totaling more than $28 million. In addition, The Foundation focuses on the following core areas: health system reform, health information technology, physician leadership, workforce needs and pilot projects. As the health system in America continues to evolve, The Physicians Foundation is steadfast in its determination to foster the physician-patient relationship and assist physicians in sustaining their medical practices during this evolution. For information, visit PhysiciansFoundation.org.
###