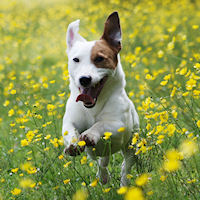 "At our house the arrival of spring is right up at the top in terms of things we look forward to every year."
Anderson, Indiana (PRWEB) February 28, 2012
Is your dog ready for spring? Scout & Zoe's Natural Antler Chews offers the following tips to ensure your furry friends are primed to spring forward when warmer weather arrives.
"At our house the arrival of spring is right up at the top in terms of things we look forward to every year," says Cindy Dunston Quirk, owner and developer of Scout & Zoe's. "Scout and Zoe can't wait to shake off the winter blues, get out of the house and start enjoying the warmer weather. But like any other transition during the year, it's a good idea to make sure they're ready!"
Here's a quick checklist from the experts to consider before warmer weather arrives:

Ensure that flea and tick protection is up to date. Whatever preventatives you choose, it's important to get a head start as temperatures begin to rise. As always, check your pet thoroughly for fleas and ticks after playing outdoors or hiking in the woods!
Make sure that all your dog's vaccinations are up-to-date, especially rabies.
Say no to heartworms! Spring is the time to begin administering heartwork preventatives if your pet is not already on a year-round medication plan. Consult your veterinarian.
Make sure that your pet first aid kit is up to date. Dogs are different from people, so they need their own kind of first aid when injuries and mishaps arise. For more information go here: http://www.mckerleycom.com/scout&zoes/furryfirstaid.html
Make sure all of your spring planting is pet-friendly. Some of the flowering plants, bulbs and shrubs that homeowners plant in the spring can be toxic to pets. Verify that all of your plants won't endanger your dog by consulting the ASPCA's Guide to Pet-Safe Gardening (http://www.aspca.org/petcare).
Get your furry friend a good spring cleaning! As soon as temperatures start to rise, consider taking a trip to the groomer for a thorough wash and trim. This will help shake loose the thicker winter coat and have them looking and smelling great in order to show off for their friends at the park!
Clean up their gear. Spring cleaning time is also a great time to clean up and possibly replace your dog's bedding, toys, bowls, placemats and grooming tools. It's also a great time to stock up with a new supply of the Scout & Zoe's treats they love!
"The arrival of spring is a special time for everybody, but I think even more so for our pets," says Cindy. "The feeling of being able to finally have fun outside is so important to them. They want nothing more than to enjoy it to the max – and to enjoy it with you! I think the least we can all do is take a few steps to make sure they make the transition to warm weather with no worries!"
About Scout & Zoe's: Scout & Zoe's Natural Antler Chews, which come in a variety of sizes for dogs and other animals, are gathered only after they've been shed naturally as part of the elk's life cycle.
Antler chews are the right choice for the 15 to 20 percent of dogs who suffer from allergies to beef, chicken or have other digestive issues. They're a safer choice because antler chews won't splinter like bones. Owners like them because they don't wind up in a gooey mess like rawhide and best of all they take away the need for pets to chew on furniture, shoes and other things around the house.
Scout & Zoe's are superior to other chews in helping dogs maintain clean, healthy teeth and contain trace minerals such as calcium and phosphorous which add to the pet's overall health.
Typically lasting four to six weeks, Scout & Zoe's chews are available in a variety of sizes to suit every breed. No animals are harmed and no violence is imposed on any elk during the gathering of the antlers.
To order Scout & Zoe's chews for your pet, go to http://www.scoutandzoes.com or call (317) 457-7222 to find a fine retail outlet near you.
###