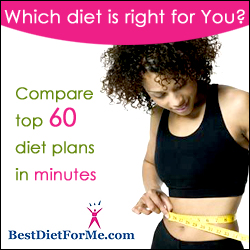 "Now consumers can identify with confidence the best diet plans for them, free, from home."
Tampa, FL (PRWEB) February 28, 2012
Marketdata Enterprises is a 33-year old market research firm that has operated http://www.BestDietForMe.com, since 2003, helping more than 1 million consumers find the best diet plan for their personal budget, food, and exercise preferences. BestDietForMe has been one of the leading diet information websites on the Web since 2003, with 2,000+ pages of free weight loss reviews and content It has been named a "Hot Site" by USA Today.
"Dieters today are confused by all the weight loss programs on the market. They're bombarded with exaggerated claims of rapid and easy weight loss and misleading claims about the true cost of programs. We created BestDietForMe nine years ago to address this problem and to protect consumers. Now, more than ever, it's important not to waste your money. Now's not the time to spend hundreds or thousands on the wrong diet plan for your needs.", according to John LaRosa, Business Development Manager.
What's different about the Diet Wizard survey and software is that it's unbiased. Marketdata does NOT operate or sell any weight loss programs or products. BestDietForMe.com's parent, Marketdata, maintains and continuously updates a database of only legitimate, proven and safe weight loss programs (medical, commercial, retail, and do-it-yourself). When a person uses the Diet Wizard, which is password protected to assure security, the software narrows down the several best plans for you, based on how you answer the questions.
The Wizard covers a dieter's… budget, food preferences, exercise habits, emotional eating, food allergies, etc. Upon completion, the person's several recommended diet programs appear, by name (i.e. Jenny Craig) with links to in-depth company reports that instantly appear on screen. Users can compare the features and costs of all the major programs 24/7 from home—with no high pressure sales pitches.
Marketdata analyzes these survey results quarterly, tracking 112 measures, and publishes quarterly in-depth reports of the findings. We now have 7 years of data on online dieting trends, 2005-2011. Some of the findings:

Diet Budgets… There was a steady increase in the share of online dieters with a weight loss budget under $250 since 2005. It peaked last year at 72%. The share wanting to spend $250-500 also declined steadily, to a low of 13.3%. The share willing to spend $500-1,000 fell to the lowest level in 2009 during the recession, to 7.4%. The share willing to spend $3,000+ shrunk to 1.8% last year, lowest in five years.
Age… The youngest group, those online dieters aged 18-25, constituted 28.4% of all online dieters in 2011. The 5-year high was reached in 2009, at 35.5%.
Gender… The overwhelming majority of online dieters are female — 91% in 2011--no surprise here. This ratio was little changed over the past five years. More men may be starting the search for a weight loss program online, as their percentage rose from 5.4% in 2005 to 9% currently.
Preferred Location… Most of the 108 million U.S. dieters overall are do-it-yourselfers—estimated by several other studies by government and private organizations to be as high as 70%. We think it's higher. The BDFM data show this, as home/online/website is the top preferred location desired. The share for our sample group averaged 79.4% in 2011— not far from our highest reading ever. Again, this reflects the recession, as consumers moved to do it themselves to cut costs.
Food Plan… A majority of online dieters, 60.7%, prefer to use regular grocery store food, but interestingly, 26% don't have any preference. This share has risen since 2005.
Psychological Support… At least 57% of all online dieters need SOME form of psychological support, whether they want it or not. Of the three psych areas, 76%, the greatest share, needs emotional eating support as part of their program. Over the period 2005-2011, across the board, we saw that the share of online dieters that need some level of psych support has risen, reaching 5-year highs in 2010. The big question, however, is whether they ARE, in fact, getting this support online.
"During this recession, it's more important than ever to save money wherever possible. BestDietForMe.com protects dieters by giving them information that empowers them BEFORE they sign up for a weight loss program. We don't sell anything, so we're unbiased. They can also get the latest news on new diet companies, scams to avoid, videos, self-improvement, fitness and more. ", according to John LaRosa.
Diet Wizard Available for Licensing
Previously, this Diet Wizard (with a database of 60 top programs) has been available only on the BestDietForMe.com website. Marketdata is now making this unique diet tool available for licensing by a limited number of companies. Marketdata will create a co-branded page for the client. The licensee can surround the survey with its own ads, if desired.
Quarterly Reports Published About Online Dieters
Each of these market research reports is about 90 pp. in length and covers 112 online dieter metrics, as well as trends in online dieting, the weight loss market overall, public diet company performance, traffic rankings of the top diet websites and more. Price: $895 per quarter. $2,995 for year's subscription (4 reports)
ABOUT BESTDIETFORME.COM and MARKETDATA
http://www.BestDietForMe.com is operated by Marketdata Enterprises, Inc., an independent market research firm and 23-year analyst of the U.S. weight loss industry since 1989. Marketdata publishes many diet market research studies, sells dieter leads, and performs consulting and custom research. Contact Mr. LaRosa for Diet Wizard licensing details and other weight loss studies. Take a tour of the survey. Use demo(at)demo(dot)com for your email address and the word "demo" for your password. You will see all survey screens and questions, to the end of the survey and your matches.
Contact Information
John LaRosa,
Marketdata Enterprises, Inc., Tampa, FL
Phone: 813-907-9090
Fax: 813-907-3606
email: john(at)bestdietforme(dot)com
# # #