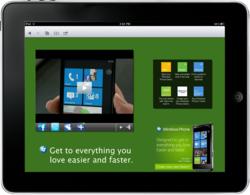 Jivox Quattro mobile interactive video ad format winner in the first-ever Interactive Advertising Bureau (IAB) Mobile Rising Stars competition
Miami, FL (PRWEB) February 27, 2012
Jivox, the leading multi-screen interactive video advertising technology company, was today recognized as a winner in the first-ever Interactive Advertising Bureau (IAB) Mobile Rising Stars competition for its Quattro mobile interactive video ad format. Jivox was selected based on its potential to propel brand creativity on mobile devices, smartphones and tablets at scale. Additionally, Jivox has been invited to join fellow mobile innovators in the IAB Mobile Rising Stars Working Group to define, build, and implement the IAB Full Page Mobile Rising Star.
The IAB Mobile Rising Stars Agency Working Group evaluated over sixty entries to arrive at the five creative ad product concepts that will become the IAB's first-ever Mobile Rising Stars. The mobile ad unit submissions were evaluated based on user experience, branding, functionality, page integration and how easily the ad format could be widely adopted across the mobile ecosystem.
"We are honored to be selected by the IAB to help establish mobile advertising standards across the interactive advertising spectrum," said Diaz Nesamoney, CEO of Jivox. "Given the rapid adoption of smartphones and tablets, it is imperative to make it as easy as possible for advertisers to create and deliver engaging ads on any screen. Our platform enables such ad units to be created without the need for lengthy coding and development cycles, resulting in rapid turnaround times and enabling production of engaging ads at scale."
"The explosive growth in smartphones and tablets has created tremendous advertising opportunities for brands" said Peter Minnium, Head of Brand Initiatives at the IAB. "Jivox was selected as a winner as they provide a highly immersive and engaging experience for users and takes advantage of new brand engagement models including social media."
The Quattro Mobile Interactive Ad Format
Jivox Quattro is a high-impact interactive video ad that can run on any screen, including smartphones, iPads and tablets.
•Rich Immersive User Experience — As a full-page unit with unlimited interactive widgets in the form of videos, trivia games, custom animations etc., to entertain and interact with the user. Long form videos can also be added giving end-users the ability to learn more through demos, tutorials, etc.
•Social Media Engagement — with its built-in and custom social sharing features users can post, follow, tweet, like and share video ads with friends. And brands can host a Twitter cloud with a live feed.
•Single Ad tag, Multiple Delivery - uses a single mobile tag to offer a consistent user experience across multiple devices and mobile operating systems with automatic detection and switching between various smartphone and tablet devices and sizes, Flash and HTML5 rendering and landscape and portrait orientation.
•In-app and In-page Delivery- the Quattro full page units can be delivered via a tap-to-pay mobile banner or as a full-page mobile interstitial between levels/pages of an app or within tablet newspaper/magazine pages.
•Enhanced Measurement — instant measurement and optimization during campaign flight online and across all mobile operating systems and devices.
Jivox pioneered the use of self-service creative and production tools to enable rich interactive video ads at scale without the complexities and error prone process of manual code development; these were key attributes to meeting criteria of the Mobile Rising Stars. Key aspects of its winning Quattro interactive ad unit will be incorporated into the IAB Full Page Mobile Rising Stars, which with in-market success will graduate into official IAB Standard Ad units in the first quarter of 2013.
The awards were presented at the IAB's fifth Annual Leadership Forum, Ecosystem 2.0: Beyond Time and Space. At the event, leaders across the digital media landscape converged to address buying, selling, building and scaling in media's next dimension.
Jivox is also supporting all previous winning "Rising Stars" ad formats that IAB announced and that will anchor the organization's New Standard Ad Unit Portfolio. Four of these units (Billboard, Filmstrip, Pushdown and Sidekick) are available immediately on the Jivox Platform, while the remaining two will be available by June 2012. Jivox demos of Rising Star ad formats can be seen here http://www.jivox.com/demoads#demoad-tab-5
About Jivox
Jivox is the leading multi-screen interactive video advertising technology company. The Jivox platform enables brand advertisers, digital agencies and publishers to deliver highly engaging video ads powered by interactive and social sharing features. Using Jivox creative tools, interactive video ads can be easily authored and delivered instream, in-banner and on mobile devices and tablets. Jivox technology eliminates typical challenges associated with delivering video ads across multiple screens and connected devices, such as HTML5/Flash, operating systems, browsers, video encoding, form factor and other issues. Jivox also provides sophisticated campaign performance tracking, brand awareness and purchase intent analytics for advertisers via BrandGage -- its proprietary real-time analytics platform. The Jivox platform is used by several hundred media companies and agencies including AdBrite, Bloomberg, Weather Underground, Sun Times Media, InteractiveOne, Starcom, OMD, FUOR Digital, GroupM and Lee Enterprises. For examples of Jivox ads see: http://www.jivox.com/demoads.
About the IAB
The Interactive Advertising Bureau (IAB) is comprised of more than 500 leading media and technology companies that are responsible for selling 86% of online advertising in the United States. On behalf of its members, the IAB is dedicated to the growth of the interactive advertising marketplace, of interactive's share of total marketing spend, and of its members' share of total marketing spend. The IAB educates marketers, agencies, media companies and the wider business community about the value of interactive advertising. Working with its member companies, the IAB evaluates and recommends standards and practices and fields critical research on interactive advertising. Founded in 1996, the IAB is headquartered in New York City with a Public Policy office in Washington, D.C. For more information, please visit http://www.iab.net.
Press Contacts:
Suzi Owens, Blanc & Otus for Jivox
415.856.5125
sowens(at)blancandotus(dot)com
###