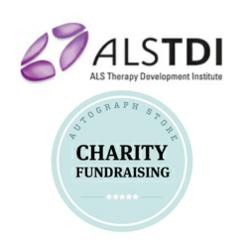 ALS TDI is excited to work with the Autograph Store Charity Fundraising group to help us increase funding and move faster toward effective treatments for ALS patients today.
New York, NY (PRWEB) February 28, 2012
The fundraising and development teams at Autograph Store Charity Fundraising and the ALS Therapy Development Institute (ALS TDI) are pleased to announce their national partnership for charity auctions hosted throughout 2012. After a careful vetting process, ALS TDI selected Autograph Store Charity Fundraising as their exclusive, preferred source for unique auction items and experience packages.
Citing Autograph Store Charity Fundraising's international reach and five-plus years of experience providing successful fundraising ideas to some of the world's most recognizable charity organizations, ALS TDI selected a partner with the know-how to support its more than 100 auction fundraisers planned throughout North America in 2012.
"We couldn't be more excited about this partnership," said Sean Gallagher, director of operations for Autograph Store Charity Fundraising. "The work ALS TDI does for so many patients who desperately need their support is something we're proud to be a part of. Having the opportunity to support their auction events this year will be a great honor and a lot of fun for our fundraising team."
ALS TDI has a number of high profile projects in their pipeline for 2012, including the launch of a clinical trial for ALS patients as well as preclinical research into another potential treatment today through its research agreement with Biogen Idec and UCB. Additionally, the institute is expanding its lab by more than 40 percent this year to take even more of a leadership role to drive this and other important potential treatments for ALS patients today forward.
"The pace of our research is directly proportional to the funding we receive," said Steve Perrin, Ph.D., CEO & Chief Scientific Officer of ALS TDI. "Funding from auctions accelerate that process. ALS TDI is excited to work with the Autograph Store Charity Fundraising group to help us increase funding and move faster toward effective treatments for ALS patients today."
Autograph Store Charity Fundraising spent the past several months capitalizing on its record-breaking 2011, expanding the company's offering beyond autographed memorabilia to include once-in-a-lifetime experience packages, artwork, jewelry and many other unique auction items in 2012. Significant investments in infrastructure and enhanced product and package offerings, have allowed the company to continue its aggressive growth into offering more comprehensive fundraising ideas and non-profit support, like what will be available to ALS TDI.
"We've been investing in our brand, our internal systems, and our product and package offerings for exactly this reason — we want to be able to provide more comprehensive auction support to national non-profit organizations like ALS TDI," Gallagher said. "Partnering with organizations like ALS TDI is why we're in the charity fundraising business, and we couldn't be more pleased to help support such a wonderful cause."
For more information regarding this story, please contact LisaMarie Ianuzzi, charity fundraising assistant for Autograph Store Charity Fundraising, at (888) 232-2500, ext. 100 or lisamariei(at)autographstore(dot)com.
Autograph Store Charity Fundraising proudly serves more than 2,500 charities and non-profits worldwide, providing charity auction items to a wonderfully diverse group of worthy causes. In fact, in 2011 alone, the company's no-risk auction items helped raise nearly $3 million at charity auctions, non-profit fundraisers and charity benefits in all 50 states and around the world. For more information, please visit http://www.charityfundraising.autographstore.com.
The mission of the ALS Therapy Development Institute (ALS TDI) is to develop effective therapeutics that slow or stop amyotrophic lateral sclerosis (ALS, Lou Gehrig's disease) as soon as possible for patients today. Focused on meeting this urgent unmet medical need, ALS TDI executes a robust target discovery program, while simultaneously operating the world's largest efforts to preclinically validate potential therapeutics; including a pipeline of dozens of small molecules, protein biologics, gene therapies and cell-based constructs. The world's first nonprofit biotech institute, ALS TDI has developed an industrial-scale platform, employs 30 professional scientists and evaluates dozens of potential therapeutics each year. Built by and for patients, the Cambridge, Massachusetts based research institute collaborates with leaders in both academia and industry to accelerate ALS therapeutic development, including Biogen Idec, UCB, Aestus Therapeutics, MDA and RGK Foundation. For more information, please visit us online at http://www.als.net.
© 2012 Autograph Store Charity Fundraising
# # #