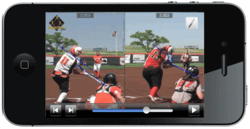 We are proud to align with a pioneering leader in softball and baseball instruction. -Don DiDonatis, Commissioner - USSSA.
Rolling Hills, CA (PRWEB) February 28, 2012
RightView Pro, a teaching tool to help improve, define and standardize instruction, has partnered with USSSA to to bring video analysis solutions to the serious baseball and softball players. "We are very proud to align with a pioneering leader in softball and baseball instruction. RightView Pro has set the standard for integrity in instruction over the last decade." Said Don DiDonatis, Commissioner - USSSA.
Originated by former Major Leaguer Don Slaught, RightView Pro was started in 2001 after Slaught had accepted a baseball coaching position at Palos Verdes Peninsula High School. "I wanted to show my players what the best hitters in the world were doing, and I discovered very quickly that I needed a coaching tool," Slaught said. "I was dealing with 60 kids in a two-hour practice, and I needed a quick easy way to show my players exactly what they were doing vs what the best hitters and pitchers in the game were doing." Slaught goes onto say, "I quickly learned that it's much easier to show than it is to explain."
Consequently, Slaught went to Major League Baseball and the Player's Association and expressed the need to create a product that would help coaches at all levels communicate and breakdown the swing at a speed that can be understood more effectively, while using Major League Baseball hitting models to compare against. Slaught found that video analysis helped to provide the proof that hitters prepare to swing differently but become virtually the same prior to swinging the bat. Through video analysis it was also revealed that hitters don't squish bugs, don't swing down and hitters don't leave weight on their back foot. After consulting with Major League Baseball, work began on the first software program in conjunction with MLB. Today, the 10-year old company has greatly expanded and offers a full line of instructional and analysis systems for the part-time coach, all the way up to to college, international, and professional teams.
An exciting new development that launched this December is the RVP mobile app for video anaylsis. According to Slaught, "The true power of the RVP system is its ability to compare student skills against the very best players in the game." Slaught goes on to say, "We wanted players at every level to have an affordable way to compare to pro models and the RVP App gives players and coaches that ability right in the palm of their hand."
For just $9.99, the RVP app enables Apple and Android users to capture swings and pitching motions directly to their phone. For an additional $2.99, users can choose extra model packets for added customization. The RVP App already boasts hitting models of the Top High School Baseball Prospects from the Area Code Games, NPF Fastpitch and USSSA Slowpitch stars; with MLB pro models on the way.
The RVP App also offers the world's top fastpitch softball pitchers available for comparison, including Cat Osterman, Danielle Lawrie and Monica Abbott. Coaches and players can compare and sync with pro models, draw lines, and step forward and backward frame by frame. The RVP App also communicates with the RVP analysis system software to ensure full featured analysis capabilities.
RVP boasts a client list that is a Who's Who of the most successful baseball and softball programs in North America. With champions ranging from youth programs, high school, college, the Olympics, Professional Major League Baseball, and Fast Pitch Softball teams. As of 2011, the last 9 NCAA Softball Champions were RVP users. RVP has also been named the official training software of the National Fastpitch Coaches Association.
Some notable RVP users include the most recent Major League Baseball World Series Champions, the 2010 San Francisco Giants, 2007 Boston Red Sox, 2005 Chicago White Sox, 2004 Boston Red Sox, 2006 American League Champion Detroit Tigers, and the back to back NCAA Baseball Champions South Carolina Baseball.
About RightView Pro
RightView Pro was founded by former Major League Baseball Player, Don Slaught. Slaught's vision was to create a tool where kids and coaches could communicate and easily identify flaws in the swing and pitching motion. He felt strongly, that the only way to do this was with models of Major League Baseball players and professional softball players. Don went to Major League Baseball and in the end..., they agreed that kids and coaches needed models to compare to. Today, RightView Pro is the only video analysis software company licensed by MLB, MLB Player's Association and the National Pro Fastpitch League.
###