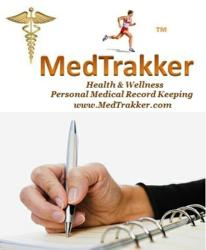 Personal Medical Record Keeping Empowers Individuals To Become Partners With Their Doctors. It Can Save One's Life In An Emergency Health Situation To Receive Better Quality Healthcare.
Winchester, VA (PRWEB) February 28, 2012
Author Amber Bowden created the concept of MedTrakker as a result of her mother being diagnosed with leukemia in 2007. When faced with a chronic health condition, personal medical records need to be as accurate as possible.
One of the most interesting improvements in major medical care today is the development of personal medical record management that puts patients back in control over their medical history data, resulting in better quality healthcare.
"While trying to help with the care and treatment of my mother, there were numerous health care providers involved. I ended up having to compile records from each and every one, it was overwhelming," said Author Amber Bowden. What one doctor's office has in their chart doesn't always match the information in another doctor's office. Life saving information can be lost in the process of trying to make sure all doctors have the same records. Amber Bowden consulted with physicians, nurse practitioners, patients and care-givers to create a simple system that maps out a patients complete medical history information.
The benefits of using a MedTrakker to organize personal medical records, provides health professionals a complete understanding of a patients health condition, reduce the stress of filling out hospital and medical forms, avoiding unnecessary treatments, duplicate tests and lab work and prescription drug interactions, saving time, etc… the list goes on and on.
With this personal medical record system, patients are able to track and record family histories, previous surgeries, medications, appointments, personal information, emergency contacts and insurance information. The MedTrakker family offers a variety of personal medical record organizers such as; Diabetes Trakker, Cardio Trakker and Cancer Trakker. The medical organizers not only offer an extensive record-keeping system, but also provides information about diseases, risk factors, and ways to manage the patients' health condition. Complete personal medical records can only result in more effective and better medical care.
"I wanted to create a way for patients to take charge of their personal health care records," said Amber Bowden. Face it, until all electronic records are made available for access between all healthcare providers, some doctors may only get half the information they need to provide the patient with the best possible care. With these organizers by MedTrakker a patient can have all their information at their fingertips. They can put an end to the guesswork, uncertainty, worry and anguish.
The medical organizers are available exclusively online at: http://www.medtrakker.com/
For Media: Author Amber Bowden is available for speaking events, book signings and expert quotes.
Author Amber Bowden can be reached on Linkedin (http://www.linkedin.com/in/medtrakker) to answer further questions regarding the whole family of MedTrakkers Personal Medical Organizers.
Follow MedTrakker here on http://www.facebook.com/MedTrakker
###