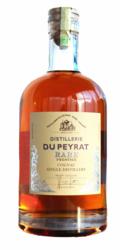 Lakeville, MA (PRWEB) February 29, 2012
Cognac producer, Distillerie Du Peyrat, and American importer, Heavenly Spirits are thrilled by the recent announcement concerning organic certification. As owner and developer of the first 100% certified organic cognac in the world, Jean-Francois Rault, a leader and pioneer in the organic spirits industry will now be free to promote the virtues of his rare organic cognacs to the United States market as well as the EU. The family of Jean-Francois Rault has been in the business of distilling grapes for cognac since 1705, (selling much of their eau-de-vie to the larger cognac houses during that time). Jean-Francois represents the first generation to have focused so exclusively on producing certified organic cognac that uses no artificial fertilizers or pesticides. In fact, the Du Peyrat distillery is responsible for more than 80% of all certified organic cognac ever produced in France.
Located in the Fins Bois delimited area of production, just a few km away from the delimited Grande Champagne area, (also known as the first cru), the vineyard benefits from 2 terroirs, producing assemblages (blends) that have strength and fullness, but will be round, supple and mature quicker than cognacs from the Grande Champagne region. Despite the modest drop in overall yield that goes along with organic farming, Du Peyrat always produces, distills and ages their eaux de vie with respect to the environment and with the intense expression of the terroir. In addition to organic farming the Du Peyrat house has chosen to use green, sustainable electricity produced by photovoltaic solar panels. They also use recycled paper products for most of the company's needs.
Du Peyrat's RARE Prestige Cognac has received a rating of "Excellent" from the Ultimate Spirits Challenge in 2010 and Paul Pacult of the Spirit Journal awarded it four stars and "Highly Recommended" in 2009. "Being able to officially cite Du Peyrat Cognac's genuine organic pedigree in addition to its awards for quality and taste should certainly create a greater demand from our consumers in the US," says Christine Cooney, Partner and Brand Manager, for the US importer, Heavenly Spirits, LLC. The timing of this organic labeling announcement goes well with Du Peyrat's recent redesign of its cognac packaging. Opting for a more modern, down-to-earth look, the new "RARE Prestige" packaging has gotten rave reviews from consumers and retailers alike.
Come meet Jean-Francois Rault and sample the Du Peyrat RARE Prestige Organic Cognac at EXPO WEST, in Anaheim, CA - booth #10 on March 9 & 10.
http://www.expowest.com/ew12/Public/Content.aspx?ID=1037232
Watch Jean-Francois Rault talk with Christine Cooney about his organic vineyards on Youtube:
http://youtu.be/N-7KUgDhj9Q
Heavenly Spirits LLC is a growing Massachusetts based importer specializing in award winning distilled spirits from France, Including: Cognac, Armagnac, Calvados, Whisky, Absinthe, Vodka and Rum. For more information contact: Daniel Cooney - dcheavenlyspirits(at)gmail(dot)com or visit http://www.heavenlyspirits.info.
# # #