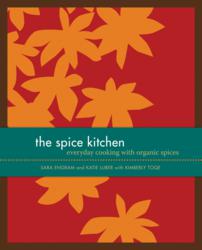 If you have time to check Facebook or text your friends several times a day, you also have time to plan a meal and spend a few minutes putting it together,
Baltimore, MD (PRWEB) February 29, 2012
As American families cope with ever-busier schedules, mealtimes together are a challenge. But gathering around the table can make a big difference in healthy outcomes for kids.
Tsp spices, with its innovative one-teaspoon packets of organic spice, is reminding families that it's never too late to establish good meal habits and offering tips to help busy families find time for healthy family meals.
The common wisdom is that people are too busy to cook and that there isn't an extra hour for people to spend time preparing an evening meal. That's a myth, according to Sara Engram and Katie Luber, co-founders of tsp spices and co-authors of "The Spice Kitchen: Everyday Cooking with Organic Spices." (Andrews McMeel, 2009)
"If you have time to check Facebook or text several times a day, you also have time to plan a meal and spend a few minutes putting it together," says Engram. "It's just a matter of priorities and a little bit of imagination and organization."
Luber and Engram founded tsp spices to make the meal dilemma easier for home cooks everywhere. Here are some suggestions:
1. Build family meals into the routine. Schedule a time for family meals at least twice a week.
2. Plan a simple menu for each meal and make sure the ingredients are on hand.
3. Try to stay away from processed or prepared foods by choosing recipes that are easy but delicious, like herb-crusted chicken.
4. Don't let one person do all the work. Kids can vote for favorite foods, help do the shopping, join Mom or Dad in the kitchen during cooking, set the table or help clear and clean up afterward. And during cooking even young children can help open a one-teaspoon packet of oregano or basil for the chicken – no measuring necessary.
5. Make meals fun. Choose pleasant topics of conversation and make sure each member of the family contributes, whether its something they learned in school or even a funny story or joke. Meals are not the time for scolding, criticism or worrying about bad grades.
6. If family schedules make dinnertime together impossible, try having breakfast together. A pot of oatmeal can be an easy, make-ahead meal. Kids can decide how they want to spice it up.
7. If weekday schedules don't allow room for a family breakfast, let kids help plan a weekend brunch.
8. During preparation and at the table, talk about the food – what flavors or spices are added to it and where they might come from. There's a history and geography lesson in every herb or spice. The more kids know about their food, the likelier they are to become healthy eaters.
9. Don't push food on kids, but do offer them healthy choices, including fresh vegetables and fruit.
10. Encourage family members to be adventurous with food, even if it's only a matter of substituting one herb for another in a familiar recipe.
Packaged in convenient, one-teaspoon packets tsp spices are a great way for families to bring a sense of fun and adventure to the kitchen and the table. tsp spices allows cooks everywhere to bring new bursts of flavor to familiar foods, whether it's a chicken recipe or a bowl of hot oatmeal.
And, of course, organic spices add flavor without additional calories or fat, helping families eat healthier.
For best results, however, spices and herbs need to taste fresh – and that's another advantage of tsp spices. Sealed in airtight, flavor-saving packets, these spices retain their pure, organic flavors far longer than spices in traditional bottles or jars. Each packet of tsp spices offers the same fresh flavor as a brand-new bottle.
Packed in designer tins containing 12 teaspoon packets each, or in samplers in handsome chocolate-brown slider boxes, tsp spices offers a line of 24 spices as well as combinations tins like Game Day Chili, Roast to Toast and Dinner for Two.
The spices are perfect for gourmet food gifts. The company also sells spice racks for convenient and stylish spice storage, as well as two cookbooks, "The Spice Kitchen: Everyday Cooking with Organic Spices," referenced above, and "Spice Dreams: Flavored Ice Creams and Other Frozen Treats (Andrews McMeel, 2010).
For more information, visit http://www.tspspices.com.
###