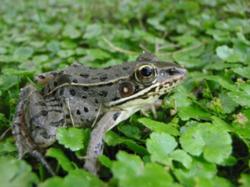 Silver Spring, MD (PRWEB) February 27, 2012
With Leap Year adding an extra day to your calendar, take a giant leap for amphibians by joining FrogWatch USA, the flagship citizen science program of the Association of Zoos and Aquariums. FrogWatch USA allows individuals and families to learn about the wetlands in their communities and help conserve amphibians by reporting the calls of local frogs and toads.
It is estimated that at least one-third of known amphibian species are threatened with extinction. Volunteers of FrogWatch USA can help scientists understand which frogs and toads may be increasingly common or in decline throughout the United States.
There are currently over 40 FrogWatch USA Chapters across the country, hosted by AZA-accredited zoos and aquariums and other like-minded organizations. To see a complete list of chapters, visit http://www.aza.org/become-a-frogwatch-volunteer/.
Take part in the amphibian conversation by visiting FrogtWatch USA on Facebook and Flickr to post your amphibian photos, stories, and videos.
To learn more about FrogWatch USA and how to get involved, visit http://www.aza.org/frogwatch/.
WHAT: Leap Year, Leap for Amphibians by joining FrogWatch USA!
WHEN: Leap Day, February 29, 2012, until the end of summer!
WHERE: At an AZA-accredited zoo or aquarium near you http://www.aza.org/FindZooAquarium
CONTACT: Elise Waugh
(301) 562-0777 x236
About AZA
Founded in 1924, the Association of Zoos and Aquariums (AZA) is a nonprofit organization dedicated to the advancement of zoos and aquariums in the areas of conservation, education, science, and recreation. Look for the AZA logo whenever you visit a zoo or aquarium as your assurance that you are supporting an institution dedicated to providing excellent care for animals, a great experience for you, and a better future for all living things. AZA is a leader in global wildlife conservation, and your link to helping animals in their native habitats. For more information, please visit http://www.aza.org.
###