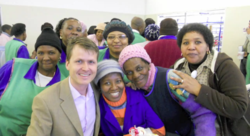 By training a new generation of problem-solvers, business schools have an enormous potential for improving the quality of life in developing countries
Washington, DC (PRWEB) February 29, 2012
Beginning March 1st the Global Business School Network (GBSN) will accept submissions to the 2nd annual MBA Challenge Video Contest, which asks the question "Can an MBA Change the World?" Through their volunteer work, student projects, new enterprises and blossoming careers, many MBAs are making a difference in developing countries. GBSN's MBA Challenge Video Contest celebrates and rewards those efforts.
"Can an MBA change the world? We think so," said Guy Pfeffermann, CEO and founder of GBSN. "By training a new generation of problem-solvers, business schools have an enormous potential for improving the quality of life in developing countries."
The MBA Challenge Video Contest welcomes video submissions from current and recently graduated (in the past 5 years) MBA students from any business school around the globe. Individuals or teams are encouraged to make an innovative and powerful video of no more than 6 minutes, demonstrating how they are applying their business skills to impact lives in the developing world.
Submissions to the MBA Challenge Video Contest will be accepted March 1st - 31st. Online voting will occur April 1st – 15th, after which a selection committee of leaders in business education, development and industry will select a winner and two runners up from the top 5 videos as chosen by online voters.
The selection committee includes:

G. Anand Anandalingam, Dean, Robert H. Smith School of Business, University of Maryland
Della Bradshaw, Business Education Editor, Financial Times
Ken Lee, Senior Alliance Advisor, Office of Development Partners/Private Sector Alliance Div., USAID
Marika McCauly-Sine, International Public Affairs Director, The Coca-Cola Company
Enase Okonedo, Dean, Lagos Business School/Director, Association of African Business Schools
Dan Parker, Engagement Manager, L.E.K Consulting/Member 2011 MBA Challenge Winning Team
Ron Sibert, Director of Business Development, Africa, Graduate Management Admission Council
The selection committee will consider the innovation, sustainability, impact on developing countries and usage of business education in the project, as well as creativity of the video presentation.
First prize is an all expense paid trip for one team member to the GBSN Annual Conference at the Taj Palace Hotel in New Delhi, India, June 12 - 13, 2012.
Information on participating in the MBA Challenge Video Contest, online voting and videos from the 2011 contest are available at http://www.gbsnonline.org/mbachallenge.
About the 2011 MBA Challenge Winner
The winning entry in the 2011 MBA Challenge Video Contest came from a group of eight students at Haas School of Business at University of California, Berkeley (USA), led by Hrishika Vuppala. Their video describes the time they spent in Zambia working with Community Markets for Conservation (COMACO) and the Wildlife Conservation Society to produce an independent organizational audit, a three-year strategic plan, and a geographic expansion strategy. COMACO provides a market-based solution to wildlife conservation by combating food insecurity through the creation of markets for rural farmers who might otherwise practice destructive land use or poach wildlife.
Click here to watch the winning video from the 2011 MBA Challenge
About the Global Business School Network
The Global Business School Network was established in 2003 on the principle that skilled management is critical to effective international development. Today GBSN is an independent nonprofit organization with a mission to build management education capacity for the developing world. Harnessing the power of an active network of top international business schools, GBSN fosters partnerships and knowledge sharing, advancing management education that delivers international best practice with local relevance.
More information is available at http://www.gbsnonline.org.
# # #