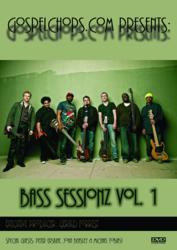 We simply took a few minutes to establish the groove and what came next was totally dependent on the musical vibe
Sacramento, CA (PRWEB) February 29, 2012
Many music critics would agree that jazz legend, Jaco Pastorius, single handedly revolutionized the way musicians perceive the role of the electric bass. During his infamous career, Pastorius developed unprecedented techniques that brought the instrument from a background position to a center-stage solo instrument and bassists from all cultures took notice.
Although the techniques of Jaco have been thoroughly documented in music books around the world, those techniques have yet to find prevalence on the gospel music scene. In fact, many great gospel musicians don't even read music notation. Conversely, jazz bassists seldom experience the rich spiritual feeling often associated with black gospel music. These respective musical genres remain worlds apart.
The highly acclaimed DVD, "Bass Sessionz Vol.1," calls both genres to the main stage through magical performances of 'jazz meets gospel.' In this epic musical display, director, Gerald Forrest brings together a legendary list of musical masters to perform amazing bass solos on impulse. "These scenes weren't rehearsed," says Forrest. "We simply took a few minutes to establish the groove, and what came next was totally dependent on the musical vibe," he explains. The result is a life-changing experience for all bass players who view it.
"Bass Sessionz Vol.1" includes exclusive performances by gospel great, Andrew Gouche (bassist for Chaka Khan), along with two amazing teenage students of the Berklee College of Music. Two of Europe's hottest bassists represent the jazz genre in the form of Janek Gwizdala (United Kingdom) and Hadrien Feraud (France). Grammy Award-winning jazz drummer, Peter Erskine, displays his mastery on the drum kit and shows the jazz community that he indeed has gospel chops.
Grab an exclusive copy of this epic DVD at http://www.gospelchops.com and your perception of the electric bass will be forever changed for the better. Your purchase supports the GospelChops Foundation. Take a peek at the bass magic here: http://www.youtube.com/watch?v=lVm0W4z-ReU&feature=relmfu
NOTE TO MEDIA:  Gerald Forrest is available for interviews. For review copies of "Bass Sessionz Vol.1" send name, media outlet and mailing address to info(at)gospelchops(dot)com.
###