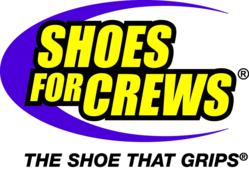 "We are delighted to welcome SFC as the preferred supplier for Slip Resistant Footwear," said Sally Martin, Avendra's VP, Strategic Supply Chain Mgt. "We partnered with SFC as one of the industry's leading design and manufacturing footwear providers."
West Palm Beach, FL (PRWEB) February 28, 2012
Shoes For Crews (SFC) has announced an agreement with the Hospitality Industry's leading procurement services company, Avendra, as their preferred supplier of slip-resistant work shoes.
Under the agreement, SFC's full line of top-rated slip-resistant shoes will be offered and recommended directly by Avendra to their 5,000 customers in North America.
The partnering of these two industry leaders was a natural "fit", adding value to both companies: Avendra will offer their clients, ranging from management companies to individual properties, the "best slip-resistant shoe on the planet" (as SFC puts it). SFC will sell more shoes, but more importantly, help Avendra's clients to reduce slip and fall injuries, and the liability exposure that follows.
SFC's claims are not unsubstantiated. They openly test their outsole's slip-resistance each year in Independent Lab Tests, going up against the likes of Walmart, Payless, Skechers and more, and consistently come out on top (see http://www.shoesforcrews.com/technology).
"We are delighted to welcome Shoes For Crews as the preferred supplier for Slip Resistant Footwear," said Sally Martin, Vice President, Strategic Supply Chain Management at Avendra. "We partnered with Shoes For Crews as one of the industry's leading design and manufacturing footwear providers with over 25 years of service. With their excellent reputation of quality, reliable customer service, and over 70 different styles, we look forward to our successful partnership that delivers slip-resistant footwear solutions to our member properties in a cost-effective manner."
Added Jim Dugan, EVP of SFC: "Establishing a formal relationship with Avendra was an important strategic move for the growth of our Hospitality business. Avendra's membership will see significant benefits from our technology, designed to greatly reduce costly slip and fall hazards in the workplace."
SFC's patented technology, combined with their exclusive comfort and durability guarantees, made Avendra's choice in partners an easy decision. And based on their respective successes in retaining key relationships, this partnership will undoubtedly endure.
About Shoes For Crews
Established in 1984, Shoes For Crews has served the needs over 15,000 companies within Hospitality, Food Service, Industrial, Healthcare, Supermarket and Education communities with their top-rated, patented slip resistant outsole for over 25 years. Their Safety Program comes at No Cost to the Employer, and every pair is delivered with guaranteed comfort and durability, all backed by a best-in-class 60 Day "Wear and Compare" Guarantee and Free Exchange policy.
To learn more about Shoes For Crews slip-resistant footwear, please call 1-877-No-Slips (1-877-667-5477) or visit their website at http://www.shoesforcrews.com.
About Avendra:
Avendra is North America's leading procurement services company serving hospitality-related industries. Avendra customers gain access to contracts leveraging $3 billion of annual purchases, expert advisory services and in-depth purchasing data and analysis. Through Avendra, customers obtain substantial savings on their purchases and other value added services to improve their operations and bottom line results. Formed in 2001, the company is headquartered in Rockville, MD and has regional offices throughout the United States and Canada. For more information, please call toll free, (866) AVENDRA, visit http://www.avendra.com, or email inquiries to info(at)avendra(dot)com.
All trademarks are owned by their respective companies.
# # #