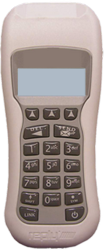 (PRWEB) February 28, 2012
The ProVOTE TXT handset is available for live event rental and purchase to US corporate trainers, staging /production companies, and audio visual providers through Meridia Audience Response's website and sales team.
The ProVOTE TXT Response System is a new tool designed for event interactivity that allows for participant texting and question submittal during any live program or instructor led training class. Through the use of participant handsets called ProVOTE TXT keypads, meeting attendee's are now able to respond to presenter questions via a single button press or through an SMS style text message. With the ProVOTE TXT, event attendee's can answer questions uniquely rather than being limited to multiple choice responses. To allow an audience to participate using the ProVOTE TXT keypads, a speaker needs only to create the question content, pose the questions to a live audience, and instruct the attendee's to respond using their ProVOTE TXT handsets. The responses will then be recorded in real time and displayed for discussion or saved for analysis.
The ProVOTE TXT product will allow Meridia Audience Response to better serve the complex requirements of the live event community. While most speakers are happy to receive any feedback during an event, there is a growing desire from speakers to fully engage their audience throughout a presentation. With the ProVOTE TXT technology, speakers can expand the level of interaction by allowing each participant to submit questions as well as answer them. The speaker can then address the specific topics and or concerns of the audience making the event experience more relevant, meaningful, and memorable for all involved.
Company
Since 1970, Meridia Audience Response has been providing innovative technology solutions for the meeting, training and entertainment industries. Combining the experience with the latest in web technology and radio frequency hardware, Meridia is now enabling audiences around the world to cast their vote and be part of the meeting, whether it involves training or interactive games.
###