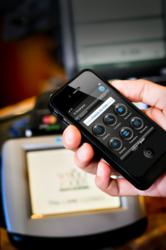 Together with MasterCard, we're excited to be accelerating the reach of this exciting technology and strengthening the business case for issuers, merchants and wireless operators to bring their offerings to market
Richardson, TX (PRWEB) February 28, 2012
DeviceFidelity, Inc. today announced at the Mobile World Congress 2012 in Barcelona that the patented In2Pay iCaisse4 is the first NFC-based mobile payment solution for the iPhone 4S and iPhone 4 that has been certified by MasterCard. This approval means that the In2Pay iCaisse4 with In2Pay v2.8 microSD supplied with MasterCard PayPass M/Chip 4 applet combination can be provisioned by banks or wireless operators worldwide to be used in connection with MasterCard Mobile PayPass-enabled mobile wallets.
The highly flexible In2Pay iCaisse4 solution protects the iPhone 4S and iPhone 4 models while enabling NFC functionality. The iCaisse4 also provides full integration with the user interface on the iPhone allowing applications to interact with the NFC functionality offered by the iCaisse. Applications such as NFC mobile wallets can be linked with MasterCard credit, debit and prepaid products on the iPhone. The patented removable microSD-based Secure Element not only offers portability across a wide range of smartphone devices but also enables provisioning by banks using their existing processes. DeviceFidelity's In2Pay solution is also compatible with most TSM providers worldwide for Over the Air issuance of multiple credentials in the mobile wallet.
"Mobile Wallets have broad consumer appeal but the market is hamstrung by the non- availability of these offerings on consumer preferred devices, such as the iPhone," said Deepak Jain, CEO and Co-Founder of DeviceFidelity. "Together with MasterCard, we're excited to be accelerating the reach of this exciting technology and strengthening the business case for issuers, merchants and wireless operators to bring their offerings to market".
DeviceFidelity has already been working with MasterCard in several countries and this certification has paved the way for mobile payment solutions using the DeviceFidelity technology, like the recently launched moneto mobile wallet, to get even more adoption.
"MasterCard has been at the forefront of providing consumers with powerful, smart and convenient new payment options with devices that are already in the palms of their hands," said James Anderson, Group Head, Mobile, MasterCard. "We are pleased to continue to extend our lead in mobile contactless payments by certifying the iCaisse4. The iCaisse4 provides our issuers with new options to extend the convenience of Mobile PayPass to their customers."
The MasterCard-certified In2Pay iCaisse4 solution will be demonstrated by various DeviceFidelity partners at the Mobile World Congress in Barcelona. In addition DeviceFidelity representatives will be available to answer questions at the event. To schedule a meeting please contact dfadmin(at)devicefidelity(dot)com
About DeviceFidelity
DeviceFidelity, Inc. develops plug-and-play technologies that empower a variety of institutions to deploy their services and applications on millions of mobile phones worldwide. Its patent-pending In2Pay microSD and In2Pay iCaisse solution transform popular mobile phones into an interactive contactless transaction device. Committed to bringing contactless innovation to the mobile phone, the company has numerous patents pending in both U.S. and international patent offices. DeviceFidelity is a private corporation with headquarters in Richardson, Texas and offices in San Mateo, California, New York and London. For more information visit http://www.devicefidelity.com, follow us on Twitter @devicefidelity and at facebook.com/DeviceFidelity
About moneto
moneto is a prepaid mobile wallet application that enables your favorite phones to make mobile payments with a cool technology called Near Field Communications, sometimes abbreviated to NFC. With moneto you can pay for purchases at more than 120,000 MasterCard® PayPass™ enabled merchant locations nationwide and globally. moneto is based on technology developed by DeviceFidelity, Inc. For more information visit http://www.moneto.me, follow us on Twitter @moneto_me or at facebook.com/monetome.
###