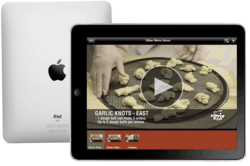 The iPad training app uses short, 2-minute videos and is geared to the younger, tech-savvy Flippin' staff demographic.
Richmond, VA (PRWEB) February 27, 2012
Flippin' Pizza's founder Patrick Farley wanted to improve on the customer experience, while also improving outdated training programs consisting of large manuals. His solution? A cutting edge, custom branded iPad application developed by Clave Media. The iPad training app uses short, 2-minute videos and is geared to the younger, tech-savvy Flippin' staff demographic. Nobody wants to sit and watch an hour long video (a method still used by many franchise restaurants), and Farley claims, "managers and staff absolutely love it!!" Watch a quick video of the Flippin' Pizza iPad Training App.
The videos and the iPad app will serve as a valuable resource for all employees moving forward. Using all embedded 2 minute videos, an employee or trainee can learn quality customer service, how to make a pie, food recipes, how to handle an angry customer, etc. Think of the benefits that this will have for the customer! Sunny Pinhero, a director of development at Fransmart and a former franchisee with Subway, notes "Whether it's initial or ongoing, training produces more capable employees that can easily handle situations ensuring the customer's experience is positive." This program will prove both initial and ongoing, since anything that is forgotten (because, after all, we are all human) will be right at the employees' fingertips on an app.
Curtis Clave, founder of Clave Media, states that, "We propel brands into the digital age with solutions focusing on impact and efficiency. Our team approached Flippin' Pizza understanding their demand for product consistency, and our goal was to dramatically increase engagement of staff members during training". The typical age range for a Flippin' employee is roughly 16-24 years old, making the iPad the perfect tool to resonate with their staff demographic, which will result in retaining more high quality employees. With the new generation of workers, it is going to be necessary for other brands to follow Flippin' Pizza's lead and incorporate the use of modern technology to enhance Four Walls Marketing.
By incorporating technology into the Flippin' Pizza business model, they are creating Best in Class Training models, and significantly improving customer experience. From the franchisee perspective, Flippin' Pizza is making innovative improvements to their systems which ultimately saves time and focuses on staying true to one of the main goals…..keeping the business simple!!
About Flippin' Pizza: Flippin' Pizza is an authentic New York style pizza concept that offers pies and slices in a high energy, family friendly restaurant environment. The vibe is an old-school, 'I'm from Brooklyn and you're not' pizza. Patrick Farley, a NY native and Founder of Flippin' Pizza, understands the importance of training top quality employees to create an everlasting positive experience for their customers – the mission statement of a Four Walls Marketing strategy.
Request information on a Flippin' Pizza fast casual restaurant franchise.
###