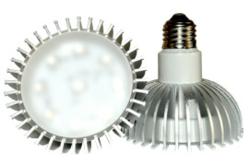 "NuVue LED lighting offers great efficiency over many other types of lighting. We are excited to carry their products," says Greg Boyce, sales representative for One Stop Green.
Houston, Texas (PRWEB) February 27, 2012
One Stop Green, LLC is proud to announce a new partnership with NuVue Lighting.
NuVue Lighting is a leading manufacturer of LED lighting and other energy efficient lighting products. In a market where "going green" is extremely fashionable, NuVue Lighting faces increasing competition from other lighting manufactures who want to take advantage of this trend. NuVue takes pride in the fact that their products consistently outperform competitors' in terms of lumen output, energy efficiency, light output, and purity of color.
One Stop Green now offers their complete line of LED lighting, which offers the potential for huge energy savings. The average LED bulb reduces energy consumption by 80% compared with comparable halogen bulbs. The bulbs also come in many common mounts, ensuring the bulb will fit into almost any fixture.
One Stop Green, LLC facilitates environmentally friendly improvements to residential and commercial properties through distribution of green, energy efficient equipment. They offer every product needed for sustainable energy independence; enabling homeowners, businesses and commercial property owners to master their usage by reducing waste, producing renewable energy from within, and implementing efficient energy consumption methods. Their goal is to provide user friendly and practical long-term solutions to existing inefficiencies in your present system(s). Their carefully selected products and professional installers offer a higher level of satisfaction and service for our customers.
Contact:
Nathan Kaufman
http://www.OneStopGreen.com
P: 877.449.9110|O: 713.541.2739|C: 210-846-5900
###