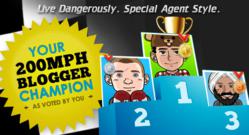 I am totally stoked to win this year, and will definitely be back next year. Can't wait for November!
Victoria, BC (PRWEB) February 28, 2012
AffiliateWire, a division of RevenueWire, is excited to announce that after thousands of votes from 99 countries around the world, a winner has emerged in the Live Dangerously Blogger Contest. Please join us in congratulating Lorenzo Green (aka Mr. Green)!
"Participating in the contest was a hoot of a time," said Lorenzo Green. "There was stiff competition, a ton of creativity, and a prize that wasn't too shabby either! I am totally stoked to win it this year, and will definitely be back next year. Can't wait for November!"
Lethal Velocity is the third installment of AffiliateWire's Live Dangerously Contest, which, in previous years, has sent affiliates to experience the thrill of flying a fighter jet over California and conquer their fears, facing hundreds of nature's most deadly predators when shark diving in the Bahamas. This year the most voted affiliate industry blogger, Lorenzo Green, will join two winning affiliates in the incredible 200 MPH Challenge, where they will have the opportunity to shatter the 200 MPH barrier driving a selection of exotic supercars down an airstrip in the Mojave Desert!
The winning contestants will be driving a selection of exotic supercars, including the Ferrari 599 GTB and 430 Italia, Lamborghini Gallardo Superleggera, Mercedes SLR McLaren and Bentley Continental Supersports and more.
"We'd like to officially congratulate Lorenzo. It was a hard fought battle right until the very end, but thanks to his dedicated readers and clever strategies for engaging them in the contest, Lorenzo has earned one of the three available seats in our 200 MPH Challenge. We look forward to seeing which of the winners can post the fastest time!" said Sue Connors, Director of Business Development at RevenueWire.
The full list of podium finishers and runners up can be viewed here.
Two seats still remain for affiliates to win. If driving at 200 mph sound like something you would like to do, just sign up here to join AffiliateWire.
For more contest details visit http://www.live-dangerously.com.
About AffiliateWire –– A Division Of RevenueWire
AffiliateWire is a leading network specializing in the promotion of software products and the latest and most popular offers in the industry. AffiliateWire offers its members the highest commissions, real-time sales tracking, an optimized shopping cart, dedicated affiliate managers, incredible adventure contests and a range of tools and services to help them make more money online.
###