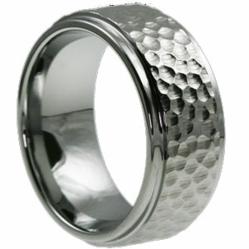 (PRWEB) February 29, 2012
http://www.forevermetals.com, a large Tungsten ring retailer and manufacturer, greatly expands on their collection of Hammered Tungsten Carbide rings available to their customers. The Hammered rings are a custom manufactured line featuring many new rings available to purchase for both men and women. Forever Metals, LLC is one of the only companies in the tungsten wedding band industry to manufacture such a unique style that is individual and unique per every ring in the line. Many customers have commented on the expanding collection excited to be able to wear a hammered ring in their desired width and size. The line features hammered ring widths ranging from a 5mm width to a 10mm width with many different fits.
Currently featuring a large selection of tungsten wedding ring styles, the new additions to the Hammered ring collection will be added to the already existing Hammered ring product page. Along with the many rings to choose from a customization option will also be available to accommodate those who may not see exactly what they were looking for. Forever Metals is confident that customer response to the added new styles will be positive and great for the upcoming spring rush.
There are several great benefits to purchasing a tungsten ring for men and women. Tungsten carbide is nearly a 9.0 on the Moh's hardness scale. This places the metal hardness right below a diamond. Tungsten carbide is also a virtually scratch resistant metal that will live up the company name as a "forever" metal. Gary Camphausen, owner of Forever Metals, LLC believes that combining great customer service along with a quality product will keep business strong and positive for the future.
Forever Metals encourages shoppers to buy with confidence when choosing tungsten carbide. The metal is long lasting and comes in many different price points to accommodate almost every shopper. The large, ever growing collection of rings, will also grab virtually everyone's attention.
For more information and to view the large collection of Tungsten Rings along with the unique Hammered tungsten rings, please visit http://www.forevermetals.com.
About Forever Metals:
Forever Metals™ has been a leader in Tungsten Jewelry since 2005. Forever Metals is a member of the Better Business Bureau (BBB) and offers a secure shopping environment for their buyers. Forever Metals offers a Limited Lifetime Warranty with all purchases. Shop with Confidence.
Contact:
Customer Service
Forever Metals
1.800.730.8317
630.938.4703
###