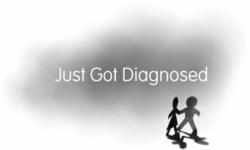 From my perspective in counseling patients and families, when one family member is diagnosed with a chronic condition, all family members are affected. In that way, everybody in the house is diagnosed.
New York, NY (PRWEB) February 29, 2012
Dr. Gary McClain today launched "Chronic Communication Tips," an ongoing series offering advice aimed at helping individuals facing chronic medical conditions and their families to communicate better. The series will appear on his Website, JustGotDiagnosed.com, and be available on http://www.alliancehealth.com, a patient social networking site in which he posts discussions as Dr. Gary, on discussion boards that include Diabetes, Arthritis, HIV, and Depression.
"From my perspective in counseling patients and families, when one family member is diagnosed with a chronic condition, all family members are affected. In that way, everybody in the house is diagnosed."
He emphasized three important considerations in relation to communication between individuals facing chronic conditions and their family members:
1. A chronic condition means change for everyone in the family. How daily responsibilities are shared, new responsibilities, treatment regimens that everyone has to adapt to, adjusting to good days and bad days that the individual with the chronic condition may be experiencing, accommodating dietary requirements, financial concerns… and on and on.
2. Change results in a lot of feelings – anger, frustration, fear, sadness, disappointment. The family member with the diagnosis may be experiencing some or all of these feelings, depending on what's happening at that moment, and so are family members. But so often, nobody wants to talk about how they feel. They are protecting themselves from acknowledging feelings that may be uncomfortable or "negative" in some way. Or they are protecting the other family members, or so they think.
3. Family members may fear that they will say the wrong thing, or assume that the family member with the chronic condition doesn't want to talk. They may all hope, unrealistically, that by ignoring their feelings, they will go away after awhile, or everybody will "just get used to it." They may think that they need to "stay positive" for each other. Or, they may fear that if they start to talk about how they are feeling, the feelings will come out in such force that they will lose control, "blow up," and do damage to the relationship.
Dr. McClain recommends that patients begin the discussion by talking about their own feelings, not just physical but emotional. When a family member asks that usual question, "how are you doing?" he suggested introducing some emotional words. "I am feeling a little sad today." "I am worried." "I'm kind of mad." Family members need to know what's going on with the patient, how the diagnosis is affecting the patient emotionally.
Talking about emotions can accomplish two key tasks. First, it gives patients a chance to let out some of their own feelings and be heard. And, it communicates to their loved ones that talking about feelings is okay, that patient isn't holding back, and that the family members aren't expected to hold back, either.
He also suggests that patients ask their family members how they are feeling, using comments such as: "I'm a little bit sad today. How are you feeling?" "I'm frustrated about my new diet. How are you feeling about it?"
Often, because family members are at a loss as to how to get the conversation about feelings started, they need to take their cue – or get permission – from the patient.
Dr. McClain cautioned that patients may not get much response, at least not at first, and emphasized that some families are better at the talking about emotions than others, regardless of the situation. But opening up communications is a step-by-step process. The patient may have to lay a lot of groundwork, starting by dipping their own toes into the emotional waters, and showing their family members that they can talk about their own feelings, even the uncomfortable ones. "Whew, I said it. And the house didn't come crumbling down."
He added that patients will be helping themselves by not bottling up their own emotions, and that they can serve as role models for their family members by showing them that talking about feelings – the "good" ones and the "uncomfortable" ones – is okay.
Dr. McClain also cautioned that establishing more open communications between patients and family members may take time. "I am not trying to promise pie in the sky. I know that some families just aren't hardwired for communication, and that family members can be downright insensitive. Still, I encourage my clients to give it a try. Sometimes family members can step up to the plate, in their own sweet time, and surprise them."
Furthermore, Dr. McClain offered additional guidance in regard to children who have a parent facing a chronic condition. "Children may need some additional help in opening up. Children learn to stay positive out of fear that they will cause their parents additional worry. They may also interpret your own insistence in maintaining a positive attitude as a signal that they aren't supposed to express their own feelings. Start the conversation by simply asking your child is feeling, along with reassurance that you want to hear whatever it is they want to tell you, even the 'scary stuff.' Give a few extra hugs and reassuring words."
About Dr. Gary McClain and http://www.JustGotDiagnosed.com
Dr. Gary McClain is a licensed counselor, educator, and author who specializes in working with individuals who have been diagnosed with chronic and catastrophic medical conditions, focusing on issues that include coping emotionally, gathering information, making lifestyle and treatment decisions, managing relationships, and communicating with healthcare professionals. As "Dr. Gary," he blogs on patient social networking boards on http://www.AllianceHealth.com. Founded and developed by Dr. McClain, JustGotDiagnosed.com offers information, guidance and inspiration for newly diagnosed patients, their caregivers, and healthcare professionals. Visit http://justgotdiagnosed.com.
###