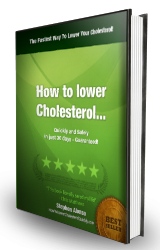 I was the first test case for the combination of these specific ingredients and I couldn't be happier with the results
Solana Beach, CA (PRWEB) February 28, 2012
How to lower cholesterol naturally has become the key question for millions of Americans. Millions of Americans are prescribed Statin drugs annually to lower cholesterol; however, over half of these patients will stop taking their drug due to side effects within one year. (1)
Of the natural health supplements that have been adopted by mainstream medicine to lower cholesterol Red Yeast Rice, Polycosanol and Omega-3 Fatty Acids, have received the most acclaim—and all have demonstrated clinical effectiveness in lowering cholesterol levels. Yet physicians have found resistance from patients who struggle to take eight or more pills a day to achieve the desired cholesterol lowering effect.
To learn more about natural cholesterol remedies get the e-book "How to Lower Cholesterol Naturally, The Top 7 Steps". The e-book is available free of charge for a limited time.
"I needed to lower my cholesterol and I didn't want to take a Statin drug because of the reported side effects. I spent a year analyzing all of the clinical studies on natural cholesterol remedies, and I found that there are several natural ingredients that when combined are very effective in lowering cholesterol", says David McMahon, CEO of Solana Health, inc.
"I was the first test case for the combination of these specific ingredients and I couldn't be happier with the results," he said. "My own LDL (bad cholesterol) and triglyceride levels dropped over 20% in just two months."
These supplements work best in combination with each other to lower cholesterol naturally. The most prominent clinical studies, such as the Mayo Clinic Proceedings's landmark study published in 2008, by Dr. Becker, showed that a combination of Red Yeast Rice and Omega-3 fish oil lowered cholesterol 42% and was equal to Lovastatin with fewer side effects.
However, until now doctors did not have a single pill solution that combines these effective ingredients to recommend to their patients. To learn more about these all-natural remedies for high cholesterol and high triglycerides visit the educational website: howtolowercholesterollevels.net
About Solana Health:
Solana Health is committed to providing the highest quality supplements at the best possible prices because we are also customers. Solana Health supplements are considered pharmaceutical grade that meet the highest standards for purity and potency.
Solana Health supplements are registered with the FDA and manufactured under Good Manufacturing Processes (GMP). Every batch of supplement ingredients is third party tested to guarantee purity and potency. Our Omega 3 fish oil has received a 5-star rating from the International Fish Oil Standards Office (IFSO), the highest possible rating for purity.
References: 1. Avorn J, Monette J, Lacour A, et al. Persistence of use of lipid-lowering medications. A crosssectional study. JAMA. 1998;279:1458-1462.
###