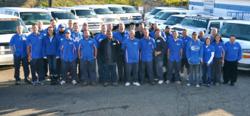 I enjoyed speaking with people at the last show and I look forward to meeting more independent, motivated individuals looking to go in business for themselves
Akron, Ohio (PRWEB) February 29, 2012
The Ultragloss team will be exhibiting at The Franchise & Business Opportunities Expo in Cleveland, Ohio on March 17 and 18 at the IX Center. This event is for individuals who are looking to go in business for themselves. Several opportunities will be featured at this event. It's an excellent place for people to get questions answered, discover financing options, and attend educational seminars.
This is Ultragloss' second show with the Franchise & Business Opportunities Expo. "I enjoyed speaking with people at the last show and I look forward to meeting more independent, motivated individuals looking to go in business for themselves," says Ultragloss founder, Steve Marble, "This expo is a great way for our team to showcase what we do and what our opportunity is about."
Ultragloss is a mobile-based automotive franchise. The Automotive Appearance Specialists at Ultragloss are trained in the art of cosmetic repair. Ultragloss technicians are able to help dealership clients manage their inventory by surveying the car lot and writing up vehicles that are in need of repair so the dealer can get the vehicle off the lot more easily. Dealerships also have the ability to offer their customers Ultragloss services thru their service department.
"What I find appealing about our business opportunity", Marble says, "Is the ability to create your work and finish it in the same day. Time flies by when you're working on a lot and the rewards are immediate."
Ultragloss is based out of Akron, Ohio and services over 200 dealerships across Northeast Ohio and has a retail location in Akron for those customers in need of cosmetic repair on their vehicles. They are typically half the price of a body shop and often save the customer a substantial amount of money on bodywork. They are known in Northeast Ohio for their white vans and trucks with the signature Ultragloss logo. Ultragloss technicians are typically noticed on dealership lots where they perform most of their craft. They are a stand out company in the area with a reputation for good customer service and quality work.
All those interested in starting their own business could benefit greatly from this show. The educational seminars provide people with business and financial planning advice, legal advice, as well as resources to further develop business strategy. The expo also features several opportunities available across the United States.
###