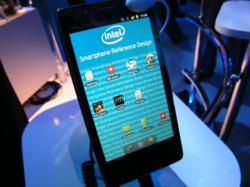 "We are very excited to be working on this IM360 video optimization project," said Jeff Ross, director of marketing for Intel's Mobile and Communication Group
Barcelona, Spain (PRWEB) February 28, 2012
Immersive Media Optimizes 360-degree Interactive Video Content for Intel® Technology-based Smartphones
IM360 Android* Application and Content Library to launch in support of Intel® Atom™ Processor-based Smartphones
Mobile World Congress- BARCELONA, Spain – February 28, 2012 - Immersive Media, the pioneer and world leader in the creation and distribution of 360-degree interactive videos, has optimized their IM360 video player for new Android smartphones based on Intel technology.
The optimized video player was ported with Google's Android Native Development Kit (NDK) and utilizes the Intel® Graphics Media Accelerator to deliver an outstanding interactive video experience. Available in the Android Market, consumers can download the IM360 application on Intel Atom processor-based smartphone as they become commercially available around the world. Within the IM360 application, users can access and download the world's largest library of 360-degree video content.
"Our collaboration with Intel to optimize our 360-degree interactive video player for Intel® architecture has produced an amazing Android application," said Myles McGovern, President and CEO of Immersive Media. "360 video is all about interactivity and putting the user in the middle of the action. We are able to get 3 times the resolution and bit rate on the Intel Atom platform when compared to other leading smartphones available on the market today. That graphics and performance advantage is vitally important when creating an unparalleled user experience."
The IM360 library contains a large catalog of 360 videos including music videos, city tours, popular sporting events, helicopter tours, nature & wildlife, parks & gardens, news & events, and museums & science. In addition, the IM360 content library will showcase 360-degree video content produced exclusively for Intel.
"We are very excited to be working on this IM360 video optimization project," said Jeff Ross, director of marketing for Intel's Mobile and Communication Group. The Intel® AtomTM Z2460 platform provides Immersive Media with great graphics capability and processing power which create a truly unique and engaging smartphone video experience."
Intel will demonstrate the IM360 video player running on Intel Atom processor-based smartphones at the Intel booth in Hall 8 at Mobile World Congress 2012.
About Immersive Media
Immersive Media has pioneered, and is leading the creation and distribution of full motion, 360-degree, interactive video. The company specializes in providing a platform for the capturing, storage, editing, distribution and playback of 360-degree content. Immersive Media has a strong-patented technology and IP, which has enabled leading brands such as Google Street View and MapQuest, Microsoft, NBC, ABC.com, CNN, ESPN and CBC Hockey Night in Canada. Immersive Media and their licensed partners provide equipment, services and license the technology to seamlessly integrate into existing workflows.
To learn more, visit http://www.ImmersiveMedia.com or follow us on twitter @IMC360Video.
Contact: Catherine Evans
cevans(at)immersivemedia(dot)com
###