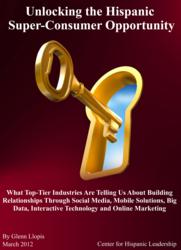 English-speaking Hispanics born in the U.S. are now the majority and their interests need to be served
Irvine, California (PRWEB) February 28, 2012
Coming just days after the Los Angeles Times printed a controversial report about the lack of diversity in the entertainment industry, the Center for Hispanic Leadership (CHL) unveiled a set of Business Consulting Services under its Brand Development Framework to address the hot button issue.
According to Glenn Llopis, Founder/CEO, Center for Hispanic Leadership: "Though we are finally starting to see a small positive shift in the portrayal of Hispanics, more momentum is needed. English-speaking Hispanics born in the U.S. are now the majority and their interests need to be served. There's a New Generation Latino and they are changing the national conversation."
Not only are New Generation Latinos (NGLs) influencing traditional media, they are making Hispanics the biggest and fastest growing users of online and interactive technology, mobile devices, and social media. To that end, CHL is offering specialized industry services for the telecommunications industry as well as media and entertainment. These services range from general corporate strategy and brand development to build Hispanic influence and loyalty to specific services for social media, big data and mobility.
The English-speaking Hispanic market represents a huge opportunity for the news media, entertainment programmers, advertisers, online content creators and gamers – and as the Los Angeles Times study revealed – the movie industry. In advance of the recently telecast Oscar ceremony, the study revealed the lack of diversity among Academy voting members. For example, less than 2% are Hispanic while at the same time Hispanics make up nearly a third of the regular movie-going audience (according to Comscore and Emarketer data).
"With the Walt Disney Company in talks with Univision, and Comcast Corporation set to distribute four new minority-owned independent networks, we are witnessing a paradigm shift in the industry," said Annette Prieto, CHL's Director of Client Relations. "Fox is getting in the game too and will be rebroadcasting an English-language version of the new Univision/Jennifer Lopez talent show Q'Viva."
CHL's Business Consulting Services are designed to help companies like these find their authentic Hispanic voice and tap the huge Hispanic Super-Consumer market. According to Glenn Llopis, "With mainstream programmers taking the first tentative steps toward reaching the English-Speaking Hispanic audience, it's time to up the ante. As the largest minority group in the U.S. – and growing every day – Hispanics have a surprisingly limited range of options when it comes to seeing themselves in the media, from nearly invisible to clearly stereotypical."
The Center for Hispanic Leadership (CHL) can help companies reach the increasingly important but overlooked bilingual/bi-cultural Hispanic majority. Its Business Consulting Services are specifically designed to address the unique needs of those in industries such as telecommunications and media & entertainment. Among the many services available are those to build corporate strategies, develop brands and thought leaders, and align products and services to Hispanics, whether through social media, mobile devices, or general web presence.
This announcement by CHL comes at an opportune time when companies are finally realizing they must learn to engage with the Hispanic consumer in more meaningful and purposeful ways. As a starting point, CHL has developed a new white paper entitled, "UNLOCKING THE HISPANIC "SUPER CONSUMER" OPPORTUNITY: What Top-Tier Industries Are Telling Us About Building Relationships Through Social Media, Mobile Solutions, Big Data, Interactive Technology and Online Marketing." In it, Mr. Llopis explains why traditional methods, where consumers must look through company goggles and assimilate, will fail, and how businesses can succeed by turning their vision around to look through the lens of the fast-growing Hispanic super consumer.
For more information regarding the whitepaper, contact CHL Director of Client Relations, Annette Prieto at aprieto(at)centerforhispanicleadership(dot)com.
###