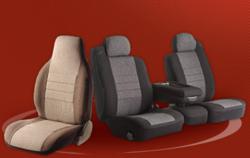 When skin is pressed up against a heat source for a long period of time over and over again, "toasted skin syndrome" can manifest.
Winnipeg, MB (PRWEB) February 28, 2012
A new study has found that car seats that electronically heat the skin during cold weather can be dangerous. Two studies were published in the Archives of Dermatology that show prolonged exposure to car seat warmers can cause a skin condition known as "erythema ab igne," (EAI) or "toasted skin syndrome" – a discolouration of the skin. When skin is pressed up against a heat source for a long period of time over and over again, EAI can manifest.
Although the condition is not too serious, it can cause some unsightly marks and lines on overexposed areas. "It's probably related to some blood vessel changes and changes in the pigment cells," said one of the doctors behind the study to MSNBC. And although the studies shows results from subjects that used the warmers 45 minutes per day, every day, experts say it can occur with less frequent use as well, depending on a person's sensitivity.
In place of car seat warmers, cold drivers can use aftermarket car seat covers, like those manufactured by Canadian company Fia, to help keep warm during the winter. After market seat covers, like the Oe30 from Fia, are made to protect car seats from everyday use and simply slip overtop of existing car seats. "[Our seat covers] are made of abrasion resistant original equipment (OE) standard fabric that stays warm in the winter and cool in the summer," says the Fia website.
It is not just car seat warmers that can cause "toasted skin syndrome." Hot water bottles, heat packs and even laptops can cause the condition through overexposure as well. It's a matter of a heat source being pressed up against the body for consistent, long periods of time. The best way to protect against toasting your skin is to either turn down the heat settings for your car seat, use them for short periods of time or to limit direct exposure as much as possible. And an alternative is to use stay-warm car seat covers. To learn more about car seat covers and other car accessories visit GoFia.com.
###