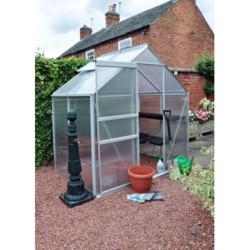 (PRWEB UK) 28 February 2012
Kingfisher Bonnington Plastics Ltd are a leading UK supplier of Wholesale Garden Tools. Following a mild winter in many parts of the UK, March 1st sees Bonnington Plastics launch its 2012 Summer Greenhouse collection.
Kingfisher Bonnington Plastics Ltd.'s new range of wholesale greenhouses enable the growth of seeds and bulbs. Because in order to grow these seeds and bulbs a greenhouse is needed. Varied temperatures in the UK mean that for many types of plants it is still too cold for planting directly in the soil.
A greenhouse is the perfect solution for many UK gardeners given how the temperatures are unpredictable at the moment. Not only are they a space saver, but greenhouses also keep seedlings warm so that cold snaps won't simply kill them off.
Kingfisher Bonnington Plastics LTD have launched a new range of Greenhouses for 2012 in March. The greenhouses are branded under the Kingfisher name which is renowned for quality among professional gardeners. The new greenhouse range is built with strong aluminium frames, which means that they won't just last a year and then collapse. The frames help these products last a very long time, and they can even be taken along when moving houses, so there's no need to buy a new greenhouse unless a bigger one is required.
Living off of home grown food is also the first step towards more environmentally friendly living. There are so many different ways in which the garden can help with day to day tasks, a lot of which require electricity to run. Solar panels will take the sun's rays and can be used to power all of the garden lights instead of plugging them into the mains. A wind turbine will provide the energy to do any number of things; all that is required is for people to take the first step towards eco-friendly living.
In addition to the new range of greenhouses, Kingfisher Bonnington Plastics LTD are continuing to update all of the Kingfisher ranges that they provide to wholesale garden products customers.
###