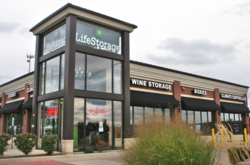 when we help people, it makes running a business that much more meaningful
Mokena, IL (PRWEB) February 29, 2012
LifeStorage, Chicago self storage provider for home and business, records management and office solutions, is hosting a Girl Scout cookie sale on March 3rd from 10am to 3pm at its Mokena location for local troops 346 and 475. LifeStorage Mokena was approached by Troop Leader Camille Allen about the possibility to help raise funds for upcoming troop events, and Store Managers Kelly Butt and Megan Tolbert were thrilled to offer their facilities as a base of operations to help raise money for the troops, and to help out children in the community. To help spread the word, Lifestorage Mokena started by emailing tenants and posting notices on their reader board, but they've also placed advertising in the Mokena Chamber of Commerce news and on a local news portal, the MokenaPatch.
The Girl Scout Cookie Program is the largest girl-led business in the country, generating $760 million yearly. The cookie goals set up by each troop work to support their chosen activities for the year, to fund community service and leadership projects, and more. For Troop 346 (girls grades 2-4) and Troop 475 (girls grades 5-12), this opportunity will help contribute to the collection process for some exciting trips. Troop 346 is planning a three-day weekend trip to the state capital, Springfield, IL. Troop 475 will use the money earned from cookie sales for a five-day trip to Mammoth Cave in Kentucky.
"This all came about after Camille approached us about some self storage options for her troops. I thought it'd be a nice opportunity to help the troops out by offering to keep cookie order sheets at the office, but then Camille suggested teaming up for an on-site sale, and the rest is history."Megan and I were girl scouts and we were both aware of the cookie sales and how the money each troop makes from the sales helps them to hold events and work on projects. We know the value in the organization for all girls and the 100 years of the Scouts working with girls to provide them a group of friends and teach them about leadership and teamwork."
LifeStorage Mokena continues to make efforts in helping out the community, whether through fun events like the upcoming cookie sale, or its continuing efforts in helping the local Frankfort Township Food Pantry with a prolonged food drive. It's part of LifeStorage's mission in providing affordable, high-end self storage, and being active in the communities in which it does business.
"Hosting Girl Scout cookie sale is a community benefit for the troops, and as a business in Mokena, when we help people, it makes running a business that much more meaningful," Butt said.
###