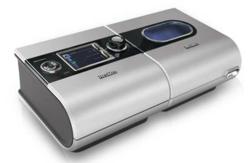 ResMed CPAP Machines are the finest machines made for the treatment of obstructive sleep apnea.
Houston, Texas (PRWEB) February 27, 2012
The ResMed S9 AutoSet CPAP machine is available from Sleep Restfully, Inc. The S9 Autoset is the finest auto-titrating CPAP machine on the market. Manufactured by ResMed, known for excellent quality CPAP machines and CPAP mask throughout the world, count on the S9 Autoset to control your obstructive sleep apnea.
The S9 AutoSet combines an intelligent algorithm with Easy-Breathe expiratory pressure relief (EPR) to dynamically adjust pressure for maximum comfort. Using ResMed's time-tested APAP technology, AutoSet continually monitors breathing, adapting breath-by-breath to always deliver the lowest therapeutic pressure, improving comfort and sleep. Enhanced AutoSet is now able to differentiate between obstructive and central sleep apneas, so you can be confident that you are always receiving appropriate therapy and pressure.
With the ResMed S9 CPAP machines a Climate Control system is available which intelligently adapts to your environmental conditions and delivers optimal temperature and humidity right to the mask. It protects you from rainout without compromising humidity and provides the most comfortable therapy possible.
ResMed S9 CPAP machines uses SlimLine Tubing which is exclusive to the ResMed. The SlimLine is a smaller diameter tube than used on other CPAP machines and is exceptionally light and flexible. This eliminates tube drag.
ResMed is the first CPAP machine manufacturer to develop a CPAP machine just for her. The ResMed S9 Autoset for Her come in a very attractive pink color which takes in account the 15 million American women who suffer from sleep apnea.
Sleep Restfully, Inc. is the most qualified Sleep Therapy and Oxygen Equipment & Supplies ecommerce business operating with a BBB rating of "A". They carry a complete line of CPAP, BiPAP and VPAP machines as well as CPAP supplies by ResMed, Philips Respironics, Fisher & Paykel and other manufacturers. In addition to CPAP machines and CPAP supplies, Sleep Restfully is your portable oxygen concentrator specialist offering the best prices and support for portable oxygen concentrators such as the Respironics SimplyGo, Respironics EverGo, Sequal Eclipse 3, Inogen G2, Invacare XPO2 and many more. They also stock stationary oxygen concentrators like the Philips Respironics EverFlo and Invacare Perfecto. Sleep Restfully, Inc. was chosen as an Authorized Internet Provider for the new Philips Respironics SimplyGo Portable Oxygen Concentrator.
In addition, Sleep Restfully stocks all replacement parts for the CPAP machines and CPAP mask as well as replacement parts for all portable oxygen concentrators.
Sleep Restfully can be contacted on their toll free number (866) 923-2727, or by visiting our website http://www.sleeprestfully.com.
###