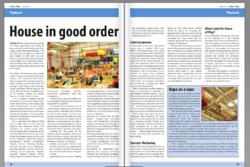 (PRWEB UK) 28 February 2012
House Of Play Ltd have today been featured in UK Online Magazine, Indoor Play Magazine. This publication is committed to bringing up to date news to the UK's indoor play industry. The magazine publishes articles that relate to all aspects of the indoor play industry, from how children react to different types of indoor play equipment, to different types of food that children should be eating.
The article details how House Of Play Ltd has managed to maintain their position as market leaders and survive for so long. One of the ways is by constantly researching and manufacturing new and innovative products that can be used by companies throughout the industry. House Of Play Ltd have done this recently by releasing the Extreme Rope Trails in their Adventure Play range, which has children walking over long rope bridges that they can swing with.
When questioned on how to stay innovative within the indoor play industry Shaun Wilson, of House Of Play Ltd said this, "It all revolves around our 'Business In A Box' service." The service that he is speaking of is one of the things that make Hose Of Play Ltd unique within their industry. 'Business In A Box' is designed for new start up indoor play facilities and ones that are already operating. This service provides businesses with the expertise that House Of Play Ltd have in all areas of the indoor play industry, and lets them use that expertise to help them when looking for a facility, hiring staff and many more aspects vital to the businesses.
The 'Business In A Box' service has been well reviewed on House Of Play's website, with one customer commenting on how they told him to stay away from any buildings that he wasn't sure of, and direct his energy into the ones he was. Comments like these show just how House Of Play Ltd are taking a direct approach to helping other businesses in their industry, therefore improving upon the quality of service available in the indoor play industry.
House Of Play Ltd also commented in the article on what to watch out for when looking for suppliers, "Don't forget, you may come across companies who advertise 30 years' experience in the industry, but this could be a company recently formed by a couple of people who have worked for other companies for 15 years each." This is the kind of knowledge that only a company who have over 20 years' experience in their industry could know to look out for.
Another service that Shaun Wilson spoke of is 'Operator Mentoring', which gives the operators of indoor play facilities access to all of the research and knowledge that House Of Play Ltd have to offer. The research used for this service is gained by House Of Play Ltd testing out new menus, play equipment, and more in their own facility 'Astrabound'. This facility is open to the public and operational all year round, House Of Play Ltd invite every operator using their services to come and test out the facility before they begin working with them to get a chance to know them better, and also show new operators what a complete play facility should look like.
House Of Play Ltd continues to be market leaders in the UK, and are looking to move into the European market next. The products that House Of Play Ltd Manufacture and sell are the main source of income for the business, however it's the services such as 'Business In A Box' that define the company. There are few businesses large enough to offer both the advisory services and the products to the indoor play market like House Of Play Ltd do, and because of this they will continue to be market leaders in the UK, and grow to be the same in Europe.
House of Play Ltd are a UK Manufacturer of Indoor Soft Adventure Play Equipment
###