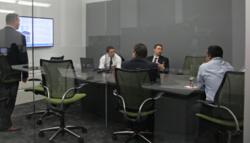 New York, NY (PRWEB) February 28, 2012
BBH Solutions, Inc., a leading New York City provider of converged network and cloud computing solutions, is pleased to announce that the EMC VNXe solution will be the featured technology at its second seminar of 2012. This event will be held at BBH's technology showcase located in DAS USA's new show and office facility, at 875 Avenue of the Americas, on March 1st from 4:00 PM – 8:00 PM. The program will include discussions led by professionals from BBH Solutions and EMC, hands-on demonstrations, and complimentary food and beverage in a relaxed, networking-friendly setting.
The EMC VNXe Series is a unified storage platform for the small-to-medium business. The VNXe Series provides automated, application-ready storage that's easy to manage, provision, and protect. With scalability from six up to 120 disk drives and 240 terabytes of capacity, the VNXe series is ready to meet the needs of growing organizations with increasingly complex storage requirements. The VNXe3100 is an ideal platform for businesses with physical server infrastructures, as well as those making the move to server virtualization to drive consolidation and greater efficiency.
Engineering staff from EMC will be on hand to demonstrate the capabilities of the VNXe storage platform through a live version of Unisphere, which provides unified management capabilities for both the storage specialist and the IT generalist. Unisphere provides a task-oriented management approach that is either web-based for ease of use or a standalone application for large environments with increased security and control environments.
BBH Solutions is a member of EMC's Velocity Partner Program. Participation in the Velocity program ensures that BBH Solutions can deliver best-in-class solutions to meet the depth and breadth of SMB and enterprise customer IT challenges.
BBH Solutions launched its technology showcase at the new DAS USA show and office facility in October 2011. DAS is a global manufacturer of specialized desks for trading and control rooms. BBH Solutions equipped the showroom with a mix of cloud-based an on-premise technology solutions, including Cisco Unified Communications, Crestron media controls, Polycom video conferencing, IP Trade Networks SIP-based trading turrets, and digital media displays.
BBH Solutions has set up a special registration page for the event, which can be found at http://www.bbhinc.com/news/detail/storage-and-disaster-recovery-strategies/. Registration will be open until 6:00 PM EST on Wednesday February 29th. To receive information about future technology seminars hosted by BBH, there is a newsletter sign-up page at http://www.bbhinc.com/subscriptions/subscribe-to-our-mailing-lists/.
About EMC – EMC Corporation is a global leader in enabling businesses and service providers to transform their operations and deliver IT as a service. Fundamental to this transformation is cloud computing. Through innovative products and services, EMC accelerates the journey to cloud computing, helping IT departments to store, manage, protect and analyze their most valuable asset — information — in a more agile, trusted and cost-efficient way. Additional information about EMC can be found at http://www.EMC.com.
About DAS – DAS has earned a worldwide reputation for excellence in the design, manufacture and installation of specialized desks for trading and control rooms. Founded in 1985, they continue to meet the needs of the World's most demanding markets where they have supplied more than 500 Clients in 51 countries and in excess of 80,000 desks. After just 4 years from inception, DAS USA Inc has grown to be a recognized supply partner to several financial institutions in the Tri-State Area. For more information about DAS, go to http://www.das-bf.com.
###