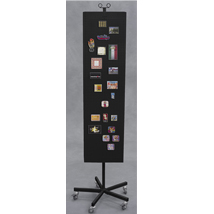 ...we are always looking out for new and innovative items to help our customers grow,
Des Plaines, IL (PRWEB) February 29, 2012
With spring just around the corner, many retailers are already preparing for the tourists who will soon be visiting their businesses in search of souvenirs and great deals. With this in mind, Specialty Store Services has introduced several retail displays and supplies to promote merchandise at retail stores, gift shops and temporary venues, such as festivals and street fairs.
"The summer season is a great time for all retail businesses; people are outside and kids are not in school so it is the perfect time to introduce new items and proven sellers. That is why we are always looking out for new and innovative items to help our customers grow," says Eric Weinstein, President at Specialty Store Services. Retailers who do not normally cater specifically to vacationers may want to consider offering a selection of souvenirs such as magnets and key chains. Tourists will soon be out in full force and there is no telling when or where someone may decided to pop in and purchase an impulse gift or souvenir.
Magnets are popular souvenirs to collect or bring back home to friends and family, so Specialty Store Services has introduced two Metal Pegboard Magnet Spinners, ideal for displaying both magnets and pegged merchandise such as key chains and accessories. The four-sided spinning displays are constructed of metal which assures that magnets adhere firmly, and also feature holes for peg hooks, allowing retailers to cross-merchandise effectively. These attractive black displays include sign holders and are available as a portable 27" high counter top spinner and a 67" high floor spinner, both great for gift shops and convenience stores.
Multi-Lingual "Thank You" T-shirt Bags allow retailers to express thanks to their customers in several different languages. The strong 13-micron plastic bags resist tearing and, at 12"W x 7"D x 21"H, are the perfect size for a wide variety of merchandise. The white bags with red print in attractive fonts are sure to be appreciated by multi- and bi-lingual customers.
Promoting one's business and merchandise is the first step toward generating interest and obtaining customers. Enter the 11 foot high Tail Feather Flag. The Tail Feather Flag is an eye-catching flag that easily installs into the ground with a sturdy stainless steel stake or can be placed on hard surfaces when paired with the optional metal crossbar stand. The weather-resistant polyester flag is braced with a heavy-duty fiberglass pole that ensures the message is visible at all times, even on windy days. Available with the messages "Grand Opening", "Sale", "Specials", "Welcome", or in an attractive Stars and Strips design, the Tail Feather Flag has a message suitable for nearly every occasion. The Tail Feather flag also includes a carrying case for easy transport.
Please visit http://www.specialtystoreservices.com for more product information or to purchase products.
About Specialty Store Services
Specialty Store Services, a second-generation family owned business, offers everything necessary to operate a thriving retail store, from logistical solutions and retail supplies to custom and stock fixtures. The large inventory of retail supplies and displays available include lighted showcases, shopping bags, pricing and tagging guns, garment racks, mannequins and security systems. Over the last 25 years this service-driven company has cultivated relationships with global partners while developing the expertise and knowledge required to provide competitive prices, outstanding customer service and quality products. Products are available for purchase online, via phone 800-999-0771, fax 888-368-8001, or at the showroom located at 454 Jarvis Avenue, Des Plaines, IL 60018.
###