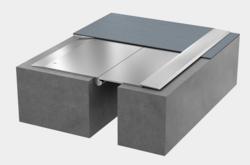 InPro's replacement expansion joint covers deliver a quick fix. Most switch-outs can be done in a few hours. This means little impact on patients or residents, and
Milwaukee, Wisconsin (PRWEB) February 28, 2012
InPro Corporation has introduced the new 807 standard cover-plate expansion joint system that is designed to accommodate various flooring thicknesses and finishes from carpet to VCT. The overlap design also reduces the 807's sightline.
The often-overlooked expansion joint helps buildings handle the rigors of thermal and seismic movement. A properly installed expansion joint cover can provide years, if not decades of silent service. But, they can take a beating – the joint cover can come loose due to heavy wheeled carts and other traffic, meaning a noisier transition point or possible trip hazard. And it's not just the floor joints – wall joints can also become scratched by carts and equipment.
InPro's replacement expansion joint covers deliver a quick fix. Most switch-outs can be done in a few hours. You simply remove the old cover and either snap or screw the new InPro joint cover in place. This means little impact on patients or residents, and should have a minimal effect on the operational pace of the facility.
InPro offers an extensive line of standard cover plate systems that are a simple retrofit over existing expansion joints. Many come with pre-drilled counter-sunk holes for easy installation. Others are designed to accommodate various flooring finishes or uneven slab conditions. Custom finishes are available on some and others give a low sightline to enhance aesthetics.
InPro is the nation's premier manufacturer of building products, offering the most choices and best service in door and wall protection, decorative surfaces, expansion joint systems, cubicle track & privacy curtains and signage & wayfinding. InPro products are used in the healthcare, senior living, hospitality, education, and government sectors.
The company leads the industry with the first biopolymer wall protection – InPro's exclusive G2 Blend® made from BioPolyPETG+™ material containing both a biopolymer and recycled content. InPro is a proud participant in the UPS carbon neutral shipping program.
For more information on InPro Corporation, visit http://www.inprocorp.com, or call 800-222-5556.
###