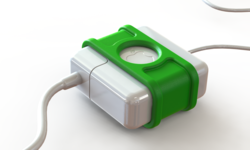 Kickstarter tops the NEA in art funding... that is a game changer.
Birmingham , Ala. (PRWEB) February 29, 2012
A Birmingham product design firm, Red Mountain Labs, Inc., is turning to the Internet to fund a new product idea.
Kickstarter.com allows entrepreneurs to pitch a product idea, raise startup capital and validate consumer's demand for their product without risking much time and money. People submit projects to Kickstarter.com for review. If selected, the project has a set time to raise a targeted budget.
Kickstarter's or project supporters can pledge as little as $1 on up to hundreds of dollars on projects. Supporters receive products from the first production run, T-shirts, and gratitude. If the project does not raise the allotted budget in the fundraising window, all pledges are cancelled, no money changes hands and the project isn't funded.
Kickstarter funds a variety of projects including art projects. According to recent LA Times article, Kickstarter will surpass the National Endowment for the Arts by distributing $150 million in 2012; the NEA will distribute $146 million.
"We've been following Kickstarter for a while now and were excited by the success stories.", said Gene Eighmy, Principal at Red Mountain Labs. "I came up with the macbands idea after scratching my MacBook power adapter. It's a simple idea that people liked and seemed like a great fit to try as a Kickstarter project."
The macbands product protects the Apple Magsafe laptop power adapter and prevents it from sliding off desks and sofa's. Its sleek, minimal design allows use of the existing cable guide and AC power option features and doesn't cover up the Apple logo.
Funds raised will be used to create two molds; one for the larger MacBook and MacBook Pro and a second for the smaller MacBook Air, and to purchase material. A few colors will be offered initially but the company has plans to add additional colors, animal patterns, and sports team logos. Price for the macband will retail at $9.99.
To learn more about the project, readers can visit the pitch page here:
http://www.kickstarter.com/projects/429632248/macbands-for-macbook-pro-and-air-power-adapters
or http://www.macbands.com
About Red Mountain Labs, Inc.
Red Mountain Labs develops technology for consumer electronics, computer, IT and medical clients and develops custom iPhone and iPad apps and hardware. http://www.redmountainlabs.com
Media contact:
Gene Eighmy
gene(at)macbands(dot)com
Phone: 205-566-1961
# # #