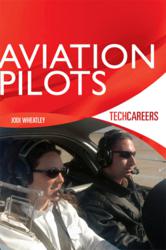 When once you have tasted flight, you will forever walk the earth with your eyes turned skyward, for there you have been, and there you will always long to return. - Leonardo da Vinci
Waco, Texas (PRWEB) February 28, 2012
TechCareers: Aviation Pilots is a taste of what it looks like to be trained and work as an aircraft pilot. TSTC Publishing's newest addition to its TechCareer Series offers employment overviews, skill requirements, education and training information and everything else needed for a career in the aviation business.
Written by Jodi Wheatley, the book is divided into three sections: Aviation Pilot Careers, Aviation Pilot Education and Certification and Additional Aviation Pilot Information and Resources. Aviation Pilots also gives an employment outlook, salary ranges, job titles, career paths and job duties, and features profiles of pilots, employers and instructors in the field.
The need for commercial aircraft pilots always is growing. According to the Joseph T. Nall Report published annually by the Aircraft Owners and Pilots Association (AOPA), the number of aircrafts in use roughly doubles every 10 years.
The book offers a list of job titles and corresponding duties pilots can expect. Job titles include private pilot, certified flight instructor, commercial pilot, airplane transport pilot and multi-engine pilot.
From employment outlook to job duties to the necessary skill sets a pilot is expected to possess, TechCareers: Aviation Pilots provides vital information any prospective pilot student needs to know.
The TechCareers Series is a joint effort of TSTC Publishing, the publishing arm of the Texas State Technical College System, and TSTC Forecasting. The series includes: Biomedical Equipment, Automotive Technicians, Aviation Pilots, Avionics Technician, Wind Energy, Computer Gaming Programmers & Artists and Welding Technology. Other forthcoming books include Aviation Maintenance, Graphic Design and Radiation Protection Technology.
Jodi Wheatley earned her bachelor's degree in TV & Film Production from the Journalism, Broadcasting & Film school at Trinity University in San Antonio, Texas. After many years working in local television she worked at Texas State Technical College in Abilene. She said writing and editing online course content (including Fiber Optics, Hydraulics, Cutting & Welding, Electricity, Applied Math and other subjects) for wind energy technology training classes was great fun, as it allowed her to do the two things she said she enjoys most: learning and helping others learn.
Established in 2004 as the publishing arm of the Texas State Technical College System, TSTC Publishing offers faculty throughout the country the opportunity to initiate and participate in a variety of book development projects. TSTC Publishing projects now include such ancillary products as instructor guides, student workbooks, CD-ROMs, DVDs, ebooks and companion websites. In addition to offering editorial help and guidance to faculty, assistance also is available in the areas of materials production, distribution and sales.
The ebook retails for $9.99 and is available from Amazon and Barnes & Noble. A paperback version is also available for $14.95 from all major book retailers, including Amazon and Barnes & Noble.
###