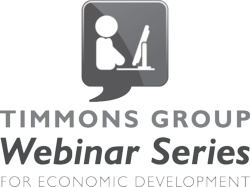 Richmond, Va. (PRWEB) February 27, 2012
Timmons Group, an ENR 500 Design Firm and a leader in civil engineering and professional consulting services, announced today that the firm is launching a new webinar series focused on economic development.
Timmons Group has created a series of economic development webinars related to site and community preparedness that will help attendees better understand what they can do to be more competitive in economic development pursuits. The series is being offered at no charge to participants and will feature engineering, land planning, geospatial/GIS, infrastructure, environmental permitting and economic development topics. This series of webinars will showcase innovative solutions that can be utilized to attract jobs and investment in this highly competitive market.
The first webinar titled "Are You Prospect Ready?" will take place on Wednesday, February 29, and will focus on how to be adequately prepared for your next prospect visit. Whether you are pursuing large or small projects – the next Amazon.com, a small manufacturer or a data center, you have to be fully prepared to address the needs of the client. Attendees will learn the strategies necessary to help close the deal.
For more information on this webinar, including how to register, go to http://marketing.timmons.com/acton/media/1275/economic-development-webinar.
About Timmons Group
Timmons Group is a multi-disciplined engineering and technology firm recognized for nearly twenty years as one of Engineering News Record's (ENR) Top 500 Design Firms in the country. The firm provides civil engineering, environmental, GIS/geospatial technology, landscape architecture and surveying services to a diverse client base. Headquartered in Richmond, Virginia, Timmons Group has regional offices throughout Virginia and North Carolina. For more information, visit http://www.timmons.com.
###