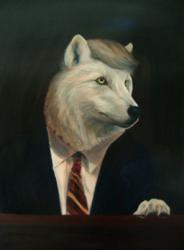 "I love this story of one woman's passion for wolves inspiring charity from Donald Trump and this beautiful painting!" says TattCafe president Helen Siwak.
New London, Connecticut (PRWEB) February 29, 2012
TattCafe.com may come across as just another online dating site, albeit for tattoo lovers and those who love them, but the team behind the online presence is hard at work creating a community for inksters.
TattCafe.com and Spirit Gallery Tattoo in New London, CT, are teaming up to promote the '3rd Annual Skin2Canvas Show' scheduled for May 2012 at the gallery. Tattooists or 'ink artists' are invited to submit paintings, sculptures and drawings that showcase their skills outside the tattoo booth.
Blaze Schwaller, opened Spirit Gallery Tattoo in 2007 and she herself is a multi-disciplined artist. She says "The Gallery combines my love of painting and illustration with the transformational power of tattoos. I am a painter as well as a tattoo artist, and have been working on a series of life-size portraits of friends and family."
In 2010 Blaze held a charity show for the Wolf Conservation Centre of NY in to help raise funds for their educational and breeding programs which reintroduce wolves to their natural environments. As part of the fundraising process, she requested donations from several celebrities, and the first one to respond was Donald Trump. Inspired by his contribution, she painted "Trump Wolf".
TattCafe president Helen Siwak was drawn to Blaze's tattoo work and paintings after initial communication on popular social media site LinkedIn. They found they shared a love of tattoos and animal rescue and are now 'linking up' to spread the Skin2Canvas show 'Call For Artists'.
All interested tattooists should submit a 3-5 photos of their work through the Contact Page at http://www.spiritgallerytattoo.com. All mediums accepted. Blaze or Lari will preview and answer any questions regarding content and future arrangements.
###