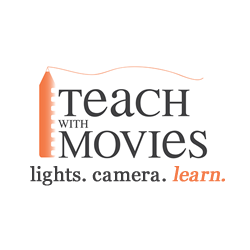 TWM's Hero's Journey student handout and worksheet enable teachers to quickly create lesson plans for any story involving the Hero's Journey.
(PRWEB) February 29, 2012
Joseph Campbell's Hero's Journey is more than just ancient myth; it's a basic pattern of human existence found in life and in literature. When used in lesson plans, for English Language Arts classes, the Journey provides an excellent way to elucidate theme, plot and character. For ELA lesson plans, the most interesting application of the Hero's Journey is in stories of personal growth and development.
To allow ELA teachers to use the Hero's Journey in their classes, TeachWithMovies.com has just released a student handout explaining the stages of the Journey and its archetypes, as well as a worksheet that can be used to analyze the Hero's Journey in any story, filmed or written. TWM has also announced publication of lesson plan curriculum materials for three movies that employ the Hero's Journey in an individual person's quest for internal growth and development.
In the perennial favorite, "The Wizard of Oz ," Dorothy passes through the stages of the Hero's Journey. The story contains several archetypes including the Mentor (the witch Glinda), and the Shapeshifter (the Wizard). The elixir Dorothy brings back is not only the realization that there is "no place like home;" more importantly, Dorothy has learned, and the audience along with her, that to accomplish anything in life, you must first believe in yourself. Analyzing Dorothy's journey as a Heroine's Journey of internal growth and development provides a new and beneficial interpretation of the story.
Amy, the heroine of "Fly Away Home," is just 13 years old, about the same age as Dorothy. She embarks on two almost simultaneous quests, both of which follow the stages of the Hero's Journey and are populated by its archetypes. Her most important Journey is to recover from paralyzing grief arising from her mother's sudden death in a car accident. This is accomplished, in part, through a second quest in which Amy and her father teach a migration pattern to a flock of orphaned Canada Geese, leading them in ultra-light aircraft from Canadian nesting grounds in which they were born to a winter home in the United States.
Deborah Elliott, a teacher who has used the film in her classroom, notes: "In 'Fly Away Home,' Amy is aware of one endeavor but not the other. She knows that she wants to help the birds; however, she is unaware of her subconscious drive to work through grief to acceptance. This is frequently the case with a Hero's Journey of internal growth and development; the hero can be completely unaware that he or she is on a quest. The impetus for the journey comes from deep in the subconscious."
In "Casablanca," Rick's love for Ilsa leads him through the stages of the Hero's Journey, from isolation and selfishness to engagement and sacrifice. The fact that the Hero's Journey and its archetypes are evident in a classic tale of love and redemption, speaks to its power as a device to analyze story.
A good example is the scene in which Rick is mentored. The lead up occurs when Ilsa surprises Rick in his bedroom above the bar. She pulls a gun, and demands the safe-conduct passes. Unable to shoot, she pledges her love and asks Rick to think for them both. While Rick has already Crossed the First Threshold by allowing the orchestra to play "La Marseillaise," thus insulting the Germans, neither Rick nor the audience know whether he will become a hero by following through with the Journey, especially now that he has the prospect of a life with the woman he loves.
The mentoring begins when Rick comes downstairs to speak with Laszlo and one of Rick's employees who have suddenly come into the bar to hide from the police. Rick makes a particularly cynical remark and Laszlo responds, "You know how you sound, Monsieur Blaine? Like a man who's trying to convince himself of something he doesn't believe in his heart. Each of us has a destiny, for good or for evil. . . . I wonder if you know that you're trying to escape from yourself and that you'll never succeed." Laszlo has Rick figured out and is mentoring him toward the right path.
TWM's Hero's Journey student handout and worksheet enable teachers to quickly create lesson plans for any story involving the Hero's Journey. In the coming year, TWM will publish additional lesson plan materials for movies that follow the paradigm of the Hero's Journey.
TeachWithMovies.com is the premier site on the Internet showing teachers how to use feature films to enhance the classroom experience. The site offers thousands of pages of lesson plans and curriculum materials on more than 350 movies. The price for access to all TWM curriculum materials is $11.99 per year per teacher. Discounts are available for bulk purchases.
# # #