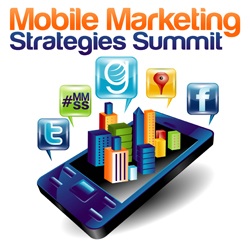 Compelling content! Dynamic line-up of current topics. Great to network with speakers at breaks in a small, intimate, approachable setting.
San Francisco, CA (PRWEB) February 28, 2012
GSMI Mobile Marketing Strategies Summit 2012
After a successful mobile marketing event this past December in San Francisco, GSMI is pleased to announce its 3rd Mobile Marketing Strategies Summit (MMSS), May 15-17, 2012, in beautiful San Francisco. This summit offers six comprehensive workshops, as well as two full summit days with four unique tracks. MMSS will feature a new "Leveraging m-Commerce, Mobile Payments and Loyalty Programs" track. GSMI has conducted extensive research in the area of mobile marketing to bring you the top thought leaders in the industry, relevant case studies, and practical workshops. GSMI's Mobile Marketing Strategies Summit is sure to be the mobile event of 2012, providing attendees with the latest trends, fresh ideas and innovative solutions to drive marketing initiatives for 2012 and beyond.
Register by April 6th and save $200!
What:
Attendees of this comprehensive three day mobile marketing strategies summit will learn how to take advantage of the numerous marketing opportunities and mobile offers from a wide variety of speakers, case studies and workshops. With six workshops, each crafted to provide attendees with the most up-to-date and profitable mobile skills, two full summit days and an abundance of networking opportunities, GSMI's Mobile Marketing Strategies Summit will arm attendees with the necessary tools to succeed in the mobile marketing world.
Interested in sending your entire marketing team? We offer group discounts!
When:
May 15, 2012: Workshops
May 16 & 17, 2012: Summit
Where:
Marines Memorial Club and Hotel
609 Sutter Street
San Francisco, CA 94102
Speakers Include:
Top thought leaders from brands such as Groupon, The Altimeter Group, The Wall Street Journal, HP, MapQuest, Bing, Home Shopping Network, 60 Second Marketer, Hotel Tonight and Whirlpool.
Who Should Attend:
Chief Executive Officers, Chief Marketing Officers, Chief Branding Officers, and Business Owners
VPs, Directors and Managers of: Marketing, Branding, Business Strategy, Customer Relations, Social Media, Public Relations, Online Community Managers, Social Media Assistants, Social Media Strategists, Business Development, Word of Mouth Marketers, Community Marketers, Media Sales
Managers, Entrepreneurs, Financial Institutions, Retailers, Merchants, E-Commerce Executives, Mobile Product Innovations, Mobile Product Development, Daily Deal Networks, Solution Providers, Mobile Network Carriers/Operators
How:
Detailed information about workshops and summit, including package details, prices and keynote speakers can be found at:
http://www.mobilemarketingstrategiessummit.com
We still have sponsorship opportunities available!
About GSMI:
GSMI is dedicated to creating rich environments for learning, networking and ensuring their attendees have great experiences. GSMI hosts dozens of summits and conferences around the world each year. They are leaders in their industry and strive to always provide the best and most relevant speakers, top-quality workshops and the optimal environment to both network and learn. More information about Global Strategic Management Institute and the Mobile Marketing Strategies Summit can be found at: http://www.gsmiweb.com
# # #