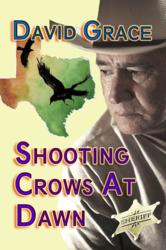 "Revenge and justice burn across Texas in this gripping, grisly shootout." Kirkus Reviews
Rockville, MD 20850 (PRWEB) February 29, 2012
This is a book for anyone who likes crime novels, cops versus criminals, and strongly drawn characters, both heroes and villains.
Visit the author at: http://www.DavidGraceAuthor.Com
The story is set in present-day East Texas and begins when Sheriff Jubal Dark captures and humiliates vicious killer, Carl Spence, who angrily vows revenge. Four years later Spence escapes from prison with two other murderers and tries to make good on his threat. The convicts kill a local family in a failed attack on the Sheriff, then steal a car and head for the border. Outraged by the murders, Dark abandons his difficult re-election campaign to track down the fugitives before they can flee the state. Dark is willing to lose his job, his badge and even his life if that's what it will take to bring these cold-blooded killers to Texas justice.
"Shooting Crows At Dawn", as well as David Grace's other novels, are available both in ebook ($4.95) and trade paperback ($7.99 - $8.99) editions at
Wildside Press - http://www.wildsidebooks.com/GRACE-David_c_1514.html
Amazon.com - http://www.amazon.com/David-Grace/e/B0041HUFRQ/ref=ntt_athr_dp_pel_1
Barnes & Noble.com - http://www.barnesandnoble.com/c/david-grace
Limited-Time FREE EBOOK Offer
In order to introduce new readers to David Grace's work, Wildside Press and Smashwords.Com are making available a limited-time, free ebook copy of David Grace's police-procedural crime novel, "Doll's Eyes" (regular price $4.95). Go to:
http://www.Smashwords.Com/books/view/59025
Click "Add To Cart"
Enter Coupon Code QG53B (free coupon expires on 03-15-12)
Click "Checkout"
Scroll down and download "Doll's Eyes" in the desired ebook format, e.g. iPad, Kindle, Nook, PDF, etc.
About Wildside Press
Wildside Press' library includes several thousand titles from over six hundred authors including Neal Asher, Robert Bloch, Robert E. Howard, Anne McCaffrey, Dorothy L. Sayers, James Schmitz, and Robert Sheckley.
###