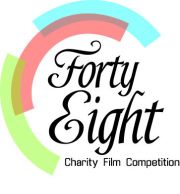 Lynchburg, Virginia (PRWEB) February 27, 2012
Liberty University's National Broadcasting Society (NBS) put students' videography skills on display while raising money for charities through its first "Forty-Eight" film contest. Seven teams of three to five students produced a one- to five-minute promotional video for a charity in 48 hours. The contest was capped off with the Black Tie Event on Feb. 24, in which more than 80 people including representatives from the four charities, gathered in the Grand Lobby of the Arthur S. DeMoss Learning Center for the screening and judging of the videos.
Students chose from four charities, which were kept secret until the kickoff of the competition on Feb. 17. They are: Habitat for Humanity, Interfaith Outreach Association, CauseLife and Special Olympics Virginia. The teams then had 48 hours to plan, shoot and edit their video.
The team Ninety-Two won the Crowd's Favorite award, with more than 475 likes in two days on Forty-Eight's Facebook and YouTube pages for its video made for Interfaith Outreach Association, an organization that works to improve the lives of those in the community with a focus on prison inmates. The judge's choice was the team "Elmer's Boys and Annessa," whose video was made for CauseLife.
According to Alicia Whitecavage, founder and project manager of Forty-Eight, the charities were selected based on their monetary and video needs. "We're Champions for Christ, we're trying to be ahead of the game and we want to be ahead when it comes to using those talents in helping others," Whitecavage said.
"These videos could provide promotions for awareness as well as raising donations, volunteers … it can do so much for the community."
The screening and judging, held 8 p.m. on Feb. 24, was open to the public, and all of the money from ticket sales was divided between the charities.
Judges were producer and Liberty alumnus Scotty Curlee ('96) of Red Cloud Productions, LLC, director and producer Ash Greyson, and Red Velocity owner Steve Mason. The judges' pick received signed copies of campus pastor Johnnie Moore's book "Honestly: Really Living What We Say We Believe" and the proceeds from registration fees.
The crowd's winner received a free Bespoke music track that has a production value of $20,000. The track can be used for students' use in their future cinematography work.

Liberty University, located in Lynchburg, Va., is the world's largest Christian university. More than 12,500 students attend classes on its 6,500-acre residential campus and more than 65,000 study in its thriving online education program.
###