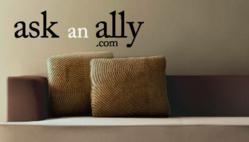 We want people to have access to their Ally from whatever device they choose.
Denver, CO (PRWEB) February 28, 2012
AskAnAlly.com, the provider of free online advice from a psychologist, has revamped it's website in an effort to become more user friendly as well as compatible with mobile devices.
AskAnAlly president, Dr. Jane Ginsberg and marketing director, Cori Knol, worked with Candi Boyer and her team at Purple Crayons in Denver, CO to design a website that uses the most current technologies. The updated site is cleaner and more accessible, without compromising the look and feel that users have come to know and trust. "Technology is changing so fast," said Ms. Knol, "when AskAnAlly was launched nobody had even heard of an iPad and smart phones were relatively new. It's a whole new world now and we want people to have access to their Ally from whatever device they choose."
After listening to feedback from visitors, the most obvious change to the site is a button on the homepage that allows people to ask Dr. Jane questions with just one click. Since AskAnAlly's primary function is to answer questions from visitors, that function needed to be available right off the bat. All of the features that users have come to expect - including resources, videos, games and the very popular AskAnAlly blog are still there, and easier to find and use. The AskAnAlly store continues to add new products.
"When AskAnAlly was first envisioned, I wanted to mimic a real psychologist's office. It was very important to create a virtual environment that, like my "real" office, feels safe and nurturing for people when they are at their most vulnerable," said Dr. Ginsberg. "We succeeded in creating that, but may have lost some user-friendliness in the process," she said, "we are thrilled that we have now achieved the best of both worlds."
AskAnAlly.com is the source for free and confidential advice from a psychologist online. Offering valuable resources and tools to soothe the soul, visitors can play games, make music and art, and ask questions, which are answered directly by Dr. Ginsberg.
Jane Ginsberg is a psychologist and the founder and president of AskAnAlly.com. She has been helping people reach their full potential for over 28 years. She currently divides her time between Denver, Colorado, and Cape Cod, Massachusetts, with her daughter, Hannah and their dog, Chester.
###