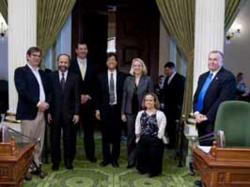 Sacramento, Calif. (PRWEB) February 27, 2012
Today at the State Capitol, Dr. Richard Pan (D-Sacramento), in partnership with CHI, the California Healthcare Institute, presented an Assembly resolution recognizing Feb. 29, 2012 as Rare Disease Day for the families and healthcare professionals caring for millions of Californians living with nearly 7,000 rare diseases.
"As a UC Davis educator and pediatrician focused on public health, I know that awareness is often key to bringing forth the resources needed to provide proper treatment," Pan said. "This is why I am proud to partner with CHI to recognize Rare Disease Day and help bring to light the fact that almost 30 million Americans suffer from rare diseases, 15 million of whom have no treatment specific to their disease."
A disease is considered rare in the U.S. if it affects fewer than 200,000 people. Approximately 50 percent of the people affected by rare diseases are children. Rare diseases may involve chronic illness, disability, and often premature death. Rare diseases are complex, and often with inadequate or no treatment, thereby representing a disproportionate share of healthcare spending.
Patients with rare diseases are frequently misdiagnosed or are undiagnosed. Few drug companies conduct research into rare diseases since it is difficult to recover the costs of developing treatments for small, geographically dispersed populations.
In 1983, Congress enacted the Orphan Drug Act to provide incentives for medical pharmaceutical and product developers to focus on treatments for victims of rare diseases. Since that time, there have been more than 18,000 products studied as possible treatments for rare diseases, and 326 of those have been approved by the U.S. Food and Drug Administration. Most of these were for diseases that had no approved treatment.
BioMarin Pharmaceuticals Inc., based in Novato, Calif., is one of the first biotechnology companies to focus on therapies for rare diseases. Dedicated to having a meaningful impact in the lives of underserved patients suffering from diseases that are often ignored, BioMarin has successfully brought four therapies for rare genetic diseases to market. The company has five additional therapies in various phases of clinical trials and multiple pre-clinical programs devoted to treating additional rare diseases.
"CHI strongly supports the mission of those companies taking on the substantial challenge of developing treatments for the millions of Americans suffering from rare diseases," said CHI President and CEO David L. Gollaher, Ph.D. "Rare Disease Day serves as a reminder that the problems families and caretakers of patients with rare diseases face -- timely and accurate diagnosis, little research and few treatments, reimbursement and regulation affecting patient access to treatment -- are enormous. It's important for these families to know they are not alone."
About the California Healthcare Institute
CHI represents more than 275 leading biotechnology, medical device, diagnostics, and pharmaceutical companies, and public and private academic biomedical research organizations. CHI's mission is to advance responsible public policies that foster medical innovation and promote scientific discovery. CHI's website is http://www.chi.org. Follow us on Twitter @calhealthcare, Facebook, LinkedIn and YouTube.
# # #