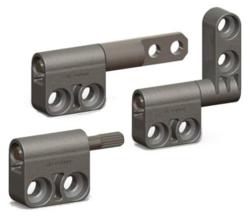 The RT Series represents a new standard for performance, versatility and ease of use...
Saint Paul, MN (PRWEB) February 29, 2012
Reell Precision Manufacturing, a world leader in small package position control, is proud to announce the introduction of it's latest positioning innovation, the RT Series of friction hinges.
Available in 3 families with 3 shaft-end attachment options, and torques from 3 to 50 Lb-ins the RT Series is Reell's most versatile catalog hinge. With a a fully qualified life of over 50,000 cycles, it raises the bar for long-life premium position control, while it's symmetric mounting simplifies designs and ensures correct installation.
Vice-President of Engineering Brian Johnson is excited about the performance of the RT Series, "we are extremely pleased with the RT Series hinges, they are the result of more than 15 years of friction hinge design and manufacturing experience and we think they represent a new level of performance and ease of use for Reell positioning hinges."
Vice-President of Sales and Customer Service Jack Field likes the versatility of the RT Series, "the range of available torques and mounting options gives you the opportunity to apply the quality feel and long-life performance of the world's best torque technology to a wider range of applications."
Reell Precision Manufacturing provides high-quality innovative solutions to transmit torque, control angular position and protect delicate components from excessive force. Combining the worlds most precisely controlled torque technology with the industry's most experienced engineering team guarantees a perfect product fit for your application. With facilities on three continents, Reell's responsive global customer service and world class manufacturing ensures exceptionally easy ordering and on-time delivery.
Follow Reell on twitter: @reell
###