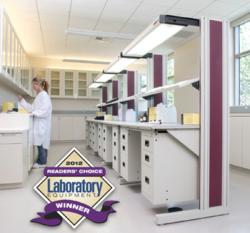 Brea, CA (PRWEB) February 29, 2012
Laboratory Equipment Magazine has announced the winners of the 4th Annual "Reader's Choice" competition, and IAC Industries' Dimension 4 Lab Stations has won the award for the Casework/Lab Furniture category. Awards are to be officially announced at a special presentation at the 2012 Pittcon show in Orlando, Florida.
Following the announcement, Paula McConnell, Executive Vice President of IAC Industries said, "We are all very excited and grateful to all the lab professionals that voted for the Dimension 4. This award is all the more special because it is a positive reaction from those in the industry actually specifying and using lab furniture. It's great to be recognized this way." IAC's President, Don Murphy had this to say, " We've been working decades on refining our Dimension 4 Lab Stations, and they've really taken off in the laboratory space. We are grateful to our many Dimension 4 customers and users for voting in the competition and giving us this prestigious award."
The move to more flexible laboratory environments began with the introduction of IAC Industries' Dimension 4 Lab Stations, and the refinement of these modular, multi-purpose workstations continues. Today, Dimension 4 Lab Stations combine a meticulous ergonomic design and sleek aesthetics with enhanced storage, new power distribution options, and advanced LED lighting. The essence of Dimension 4 Lab Stations is versatility, enabling modern labs to easily design flexible workflows. As lab processes grow or change, Dimension 4 Lab Stations are easily reconfigured to encompass the new requirements.
More information about Dimension 4 Lab Stations can be viewed at http://www.FurnitureForLabs.com.
Based in Brea, California, IAC Industries is the preeminent U.S. manufacturer of technical furniture (production workbenches, workstations, and related products) for companies performing assembly, testing, repairs, inspection and related applications across a wide spectrum of industries. IAC products are 100% made in the USA by Union Labor, and are sold worldwide. IAC Industries currently offers the widest range of workstations, workbenches, seating, and workstation-related accessories available from a single manufacturer. Products meet many industry and military requirements for static control in electronics assembly and testing. IACindustries.com For more information, contact IAC Industries at 714-990-8997 or benchsales(at)iacindustries(dot)com.
# # #