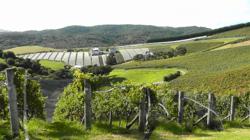 Like 'Opus One' of Napa and 'Sassicaia' of the Super Tuscans of Italy
Waiheke Island, New Zealand (PRWEB) February 28, 2012
Destiny Bay Wines announced today that Japanese wine distributor, Lib Commerce of Fukuoka City Japan, buoyed by praise comparing Destiny Bay's Cabernet blends to Napa's storied Opus One and Italy's Sassicaia, has acquired special allocations of all three Destiny Bay Blends for distribution to Bordeaux enthusiasts.
"It is not often one comes across a jewel like Destiny Bay; an exceptional wine of world class quality that challenges the best of the best," said Mr. Shokun Yamashita, CEO of Lib Commerce. "Destiny Bay's Magna Praemia makes me think of examples like 'Opus One' of Napa and 'Sassicaia' of the Super Tuscans of Italy." Acknowledging the relatively high price point of these wines, he notes that giving and owning wines of this quality "reflects well on the informed wine enthusiast."
Bill Vincent, owner of The Village Winery in Auckland, New Zealand and a former wine promoter in Japan is partnering with Lib Commerce in managing the Japanese allocation of Destiny Bay Wine. He notes that "the Japanese have developed the most sophisticated palates in the world. Their search for culinary excellence has persisted for thousands of years, placing them among the most discerning customers in the world." Explaining that New Zealand wines have needed "the X-factor to get them noticed and accepted," Mr. Vincent states that "Destiny Bay has the X factor - elegant balance and a team that can produce that quality year after year."
"This is very gratifying, coming immediately after a Chinese purchase of the entire remaining 2004 vintage," said Brett Taylor, co-owner and Destiny Bay's Director of Global Distribution. "Asian buyers are now visiting the vineyard every month, and our distribution partnerships in China and Japan are necessitating allocations by country to ensure availability for key customers."
"While this is the first time we have been favorably compared with wines of the Opus One pedigree, this is not the first time we have been called the equal of the finest Super Tuscans," stated Sean Spratt, winemaker, owner and General Manager of Destiny Bay Wines. "Several months ago Gerard Basset, an internationally recognized Master of Wine and holder of four U.K. and European Best Sommelier titles, including World's Best Sommelier, visited the vineyard and methodically tasted the 2006, 2007 and 2008 vintages. Praising Magna Praemia, Mr. Basset said that in a blind tasting he would have identified the 2008, in particular, as a top Super Tuscan."
"This further reinforces the critical praise Destiny Bay Vineyards received throughout 2011," stated Mark Feldman, owner of Destiny Bay Wine Imports in the U.S. "The December 2011 issue of The Tasting Panel magazine for the wine and spirits industry selected Destiny Bay's 2007 Mystae for the list of Most Outstanding Wines and Spirits of the Year and singled out Destiny Bay 2007 Magna Praemia as the 'Most Sophisticated.'
About Destiny Bay Vineyards
Destiny Bay is a small, single vineyard, family-owned winery on Waiheke Island, New Zealand that specializes in estate grown and bottled blends of Cabernet Sauvignon, Merlot, Cabernet Franc, Malbec and Petit Verdot. Destiny Bay produces fewer than 2,500 cases per year of their three distinct blends, Magna Praemia, Mystae and Destinae. Destiny Bay is Waiheke Island's first fully certified Sustainable Winery & Vineyard (SWNZ).
About Lib Commerce Corp.
Lib Commerce Corp. was established in April 2011 in Fukuoka City, Japan to discover and introduce great artisan wines and spirits not yet well-known in Japan. Concentrating primarily on Kyushu, the southern island of Japan, Lib Commerce's Internet retail and merchandise service arm "E-Osake" (which means 'Good Liquor') is dedicated to fulfilling the desires of enthusiasts of the world's finest wines and spirits.
Trademarks
Destiny Bay, the Comet, Magna Praemia, Mystae, Destinae and Dulce Suavi are registered trademarks of Destiny Bay Vineyards Ltd. Other names may be trademarks of their respective owners.
###