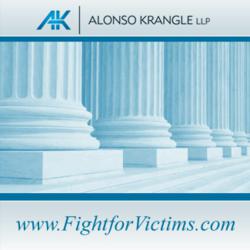 Alonso Krangle LLP is currently offering FREE Yaz lawsuit evaluations to any woman, or their family, who may have sustained serious injuries or life-threatening side effects
Melville, NY (PRWEB) February 28, 2012
The founding partners of Alonso Krangle LLP, Attorneys Andres Alonso and David Krangle are focused on fighting for the rights of victims due to drug side effects, continue to investigate harmful Yaz side effects allegedly caused by Yaz birth control pills. Alonso Krangle LLP is currently offering free Yaz lawsuit evaluations to any woman, or their family, who may have sustained serious injuries or life-threatening side effects because of Yaz including:

Blood clots
Heart attack
Stroke
Sudden death
Pulmonary Embolism
Deep vein thrombosis
If you have been injured and need help regarding a potential Yaz lawsuit claim with one of the compassionate and experienced defective drug lawyers at Alonso Krangle LLP, please contact us at 1-800-403-6191 or visit our website, http://www.FightForVictims.com.
Yaz Lawsuits and Yasmin Lawsuits Update
Attorney Andres Alonso of Alonso Krangle LLP is presently serving as a member of the Plaintiffs' Steering Committee in regards to the present litigation of more than 10,000 personal injury Yaz lawsuits and Yasmin lawsuits allege that Yaz, Yasmin and other drospirenone-containing birth control pills are currently pending in the Yasmin and Yaz (Drospirenone) Marketing, Sales Practices and Products Liability Litigation (MDL No. 2100) in the U.S. District Court for the Southern District of Illinois before the Honorable Judge David Herndon. Recently, Judge Herndon appointed a special master to the litigation and directed that he "consider and utilize every reasonable mediation option available to effectuate settlements" of those lawsuits. Judge Herndon also ordered attorneys for both parties to meet with the special master and negotiate in good faith. [ilsd.uscourts.gov/Documents/mdl2100/Order53]
There is still time for young women who may have been injured by Yaz side effects to file Yaz lawsuits in this litigation. To discuss a potential claim with one of the experienced and compassionate Yaz lawsuit side effect injury lawyers at Alonso Krangle LLP, please contact us at 1-800-403-6191 or visit our website http://www.FightForVictims.com
Yaz Side Effects and Yasmin Side Effects Injuries
Yasmin was approved by the U.S. Food & Drug Administration (FDA) in 2001 for the prevention of pregnancy in women who elect to use an oral contraceptive. Yaz, which was cleared by the FDA in 2006, is approved to prevent pregnancy, and treat premenstrual dysphoric disorder (PMDD) and certain types of moderate acne in women. Both oral contraceptives are made with a fourth-generation synthetic progestin called drospirenone, which can elevate the body's potassium levels and lead to a condition called hyperkalemia in certain patients. Hyperkalemia can cause a number of complications, including heart arrhythmias and cardiac arrest. [ncbi.nlm.nih.gov/pubmed/18929734]
In December 2011, a panel of FDA advisors voted 21-5 to recommend that labels for Yaz, Yasmin and similar pills be updated with stronger warnings about their possible potential to cause serious, life threatening blood clots. In a much closer vote (15 to 11), the advisors recommended that Yaz and Yasmin should remain on the market. [vitals.msnbc.msn.com/_news/2011/12/08/9307469-fda-panel-add-stronger-warnings-to-birth-control-labels]
The votes followed the release of a large, FDA-funded study in October that found drospirenone-containing oral contraceptives increased the risk of blood clots by almost 74%, compared to other oral contraceptives that are made with an older form of progestin. [fda.gov/downloads/Drugs/DrugSafety/UCM277384.pdf]
About Alonso Krangle LLP Andres Alonso and David Krangle, attorneys with almost 40 years of collective legal experience, have focused their law practice on the handling of significant personal injury cases, defective drug and medical device litigation, construction site accidents, nursing home abuse, medical negligence, qui tam/whistleblower actions and consumer fraud cases.  A national law firm representing injured victims throughout the U.S., Alonso Krangle LLP is headquartered in Long Island, New York, with offices in New York City, and plans to open additional locations in New Jersey.
For more information about Alonso Krangle or to join the fight and be a part of our team, please contact us at 1-800-403-6191 or visit our website, http://www.FightForVictims.com
Contact:
Alonso Krangle LLP
445 Broad Hollow Road
Suite 205
Melville, New York
11747
Toll-FREE 1-800-403-6191
Tel: 516-350-5555
###