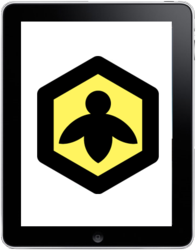 "Our partnership with Black Bee Mobile provides many key industries with pre-built mobile apps they can download and use immediately" James Quigley, CEO of Canvas.
Reston, Virginia (PRWEB) February 28, 2012
Canvas announced today it launched an App Store for Black Bee Mobile, a consultancy specializing in education, safety, human resources and healthcare apps. Samantha Voelkel, Black Bee Mobile's founder, has over 20 years' experience as an advisor, curriculum developer and consultant to multiple industries. She quickly realized the potential of mobile technology to perform so many of the tasks currently performed on paper, and partnered with Canvas to transform a diverse group of paper forms into apps that can be completed on any smartphone or tablet.
"Canvas is helping professionals do their jobs much more efficiently" said Samantha, adding "with these mobile apps, we are realizing new opportunities for greater compliance and consistency in how data is tracked."
Canvas' mobile application platform enables businesses to find, create, deploy and share mobile business applications that significantly reduce the need for paper forms and redundant data entry. Canvas' cloud-based solution allows businesses of any size to quickly and cost-effectively shift from paper-intensive processes to data collection apps on smartphones, tablets, bar code scanning devices and other mobile devices. Canvas goes further though by enabling mobile professionals to analyze and share data across their business community. In addition, Canvas has developed the first mobile business app store of its kind, allowing business users to find mobile applications that work on a wide variety of mobile devices, with every application being customizable by Canvas subscribers.
The Black Bee Mobile App Store, which already has a substantial number of apps and is growing rapidly, covers items for educators like discreet trial data sheets, precision teaching timing charts and simple observation forms. For healthcare providers and caretakers, there are vital sign flow sheets, wound care records and consent to treat forms. Also included in their App Store are a number of safety inspections for professional workplaces and manufacturing facilities.
"Canvas is serving a fast-growing community of educators, safety inspectors and healthcare professionals as these industries realize the potential of using mobile devices to capture information and data. Our partnership with Black Bee Mobile and others provides these verticals with pre-built apps they can download and use immediately," added James Quigley, CEO of Canvas.
About Black Bee Mobile
Samantha Voelkel has spent over 20 years in education. She has had the pleasure of helping hundreds of children and adults in private and public settings, and feels conventional mainstream teaching methods leave too many students behind. She is passionate about learning and sets high goals for her students. She is now taking learning to a global level with Black Bee Mobile. Black Bee Mobile designs easy to use mobile apps and educational materials that can be used on a variety of Smartphones and mobile devices for Educators, Behaviorist, Health Care Professionals, Elder Care Providers, Therapists, Alternative Health Professionals and Safety Professionals. And the list keeps growing!
Black Bee Mobile is headquartered in Coarsegold, California. To learn more visit http://www.blackbeemobile.com.
About Canvas
Canvas makes it easy to find, customize or build your own mobile data collection apps on the widest variety of smartphones and tablets in the market today. No need to be a software developer, Canvas in minutes will have any organization reducing paper consumption, redundant data entry, and excess processes. Once collected, an organization's secure data is saved in Canvas's cloud and can be shared with their company, integrated to their back office or even shared with their customers all in real time.
Canvas also offers the first mobile app store of its kind, allowing businesses from diverse industries to find mobile applications specific to their business that work on Android, Apple, Blackberry, and Windows mobile/desktop devices. Every Canvas application is customizable by the end user, and comes with GPS/location, image capture, barcode scanning, electronic signatures and accessibility to a customer's own data like parts catalogs and patient records. To date, Canvas has automated over 500,000 manual processes/paper forms, making it one of the fastest growing mobile app services for businesses. To learn more visit http://www.GoCanvas.com.
###