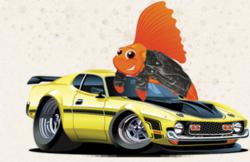 Sasha Baron Cohen's stunt
completely proved that there is no such thing as bad PR.
Los Angeles, CA (PRWEB) February 28, 2012
RoadFish.com today commended comedian Sacha Baron Cohen for his questionable red-carpet antics on Sunday night. Baron Cohen was dressed for his upcoming role as "The Dictator" to promote his new movie, and in an interview the actor spilled "ashes" from the urn he was touting on E! host Ryan Seacrest's expensive tuxedo. Baron Cohen's stunt earned him countless mentions on Twitter and Facebook as well as blog posts, videos, and other press coverage.
Joyce Chen of the New York Daily News reported that Baron Cohen arrived to the Oscars dressed as his character from his upcoming movie "The Dictator," Admiral General Shabazz Aladeen. Baron Cohen spent his time on the red carpet in character, carrying around a golden urn that he claimed held the remains of his late friend Kim Jong Il. During an interview with E! host Ryan Seacrest, Baron Cohen spilled the contents of the urn onto Seacrest. Seacrest reportedly claimed that he had no involvement or knowledge of the publicity stunt whatsoever.
Baron Cohen was invited to attend the Oscars as a cast-member of "Hugo," which was nominated for best picture this year. The Hollywood Reporter ran an article last week displaying the Academy of Motion Picture Arts and Sciences' disapproval of Baron Cohen's "Dictator" character being present on the red carpet. The article also reported that the Academy denied an online rumor that Baron Cohen's tickets to the event were going to be revoked. An Academy spokesperson told The Hollywood Reporter in reference to Baron Cohen's supposed-plan to arrive to the Oscars in character, "We don't think it's appropriate, but his tickets haven't been pulled."
RoadFish.com's Senior staff writer is quoted as saying, "I'm not saying I like or dislike Sasha Baron Cohen as an actor one way or another, but like it or not, his publicity stunt on Sunday did exactly what he was hoping it would do- drew attention like crazy. It completely proved that there is no such thing as bad PR. So whatever crap he's taking for it now was completely worth it."
The 2012 Oscars is not the first awards show that Baron Cohen has used to publicly hype an upcoming movie. In 2006, Cohen attended the Toronto International Film Festival costumed as the character Borat and entered the festival atop a wagon pulled by what he claimed to be Kazakhstani peasant women. And in 2009, he was lowered from the ceiling at the MTV Video Music Awards dressed as the gay fashion reporter character of Bruno to promote his newest release, "Bruno."
RoadFish.com feels that though Cohen's red carpet antics were highly debatable and disliked by some, they were "an ingenious and dramatic way to call attention towards his upcoming movie. He did risk coming under fire but he fearlessly stuck with the character, and for that I give him a lot of credit."
Ryan Seacrest stated in Monday morning's "On Air with Ryan Seacrest" broadcast that he definitely did not know that Baron Cohen was going to involve him in his publicity stunt. Seacrest also claimed that his mother always advised him to bring two jackets to a red-carpet event as a precaution, so he was ready with a spare to change into after Sunday night's ashes prank.
About Roadfish
RoadFish.com is an online men's lifestyle and finance magazine targeted toward men in their 30s and 40s that have already attained a moderate level of success in life, and are striving toward more. It goes over current events of interest to this group, such things as exciting adventures, consumer interests, social media and dating tips, as well as ways to make more and save more money. It is a publication owned by Purpose Inc.
###