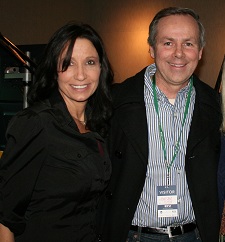 "Only seven independent films won Oscars® last year at the Academy Awards®," said
Donna Root, President of Black Box Cinematography, "but we are at the beginning of some big changes for the independent, feature-length film industry."
Park City, Utah (PRWEB) February 29, 2012
Five days ago, an innovative new technology for the film industry was successfully tested by Black Box Cinematography. "What the test proves," said Black Box Cinematography CFO Greg Rowberry, "is that the vision of Black Box Cinematography is becoming a reality."
Black Box Cinematography's vision is to enable low-budget (and over-budget) filmmakers to be able to make beautiful films. According to Sundance Film Festival co-founder Sterling Van Wagenen, now a member of the Black Box Cinematography board, the effect will be huge for independent filmmakers:
"Black Box Cinematography advances the digital revolution well into the realm of independent film. It makes possible visually smart, real-time decisions by directors, producers and cinematographers; the process and technology will cut costs and make stunning location work possible without the location."
"Only seven independent films won Oscars® last year at the Academy Awards®," said Donna Root, President of Black Box Cinematography, "but we are at the beginning of some big changes for the independent, feature-length film industry. Industry changes include enabling more production automation's and cost savings. These changes will enable more independent filmmakers to get into the game."
But Black Box Cinematography is not just targeting independent filmmakers. Its vision is to reshape the world of film making by automating more production processes than have ever been automated. One key technology of Black Box Cinematography extends the usefulness of 3D virtual sets. "Green screen cinematography falls short in many common situations, including closeups, low-lighting situations, and situations where green or blue wardrobe choices are dictated by the technology rather than the art department," said Ms. Root. "Black Box Cinematography fills in the gaps when green screen falls short."
While the green-screen alternative technology is still under development, its core features were successfully tested with Black Box prototype 1.2 on February 17. This technology is only one of a half dozen innovations included in a 67 page U.S. patent filed on January 18, 2012. "As of today, we are ahead of our development schedule," said a member of the Black Box engineering team.
Black Box Cinematography does not replace green-screen, indeed it embraces it as a part of an overall, holistic, film making solution. "We are all indebted to legendary inventors like Petro Vlahos," said Black Box Chairman Rick Stout. "Everything amazing in the world of green-screen cinematography goes back to him. But there are limitations that are well known. And Black Box technology fills in those gaps. And, that means that virtual 3D sets can be used in more cinematic conditions."
The vision of Black Box Cinematography is much larger than green-screen alternative technologies, however. Black Box Cinematography wants to make film making more affordable to more people with an artistic vision. "Our role is to chip away at what we call the digital cost conundrum" said Mr. Stout. "Digital technologies have yet to deliver the cost savings that were originally envisioned within the film industry. Digital technologies are used to multiply spectacle, but they could be used to more fundamentally reduce costs," said Stout.
"Special effects inventor Douglas Trumbull has described a similar thing to what we are seeing. 'Mid-level' movies aren't being made in Hollywood any more. Only movies of huge spectacle. And the result is that some demographics are going to fewer films, and theaters are not filling their seats" said Stout. "Black Box Cinematography will help to solve this problem."
Black Box Cinematography envisions a world where independent filmmakers are freed to create their stories without massive financial backing required for large crews, expensive sets & location travel.
A world where a director can scout locations, shoot photos, and turn those photos into virtual 3D sets–and then use those virtual sets to pre-visualize shots, and automate production processes.
A world where actors and filmmakers have life-size visual set references. A world where smaller crews can get more done in less time by using highly automated processes.
A world where high-quality, mid-level movies proliferate. A world where the digital cost conundrum gradually fades to black. For more information, go to http://www.BlackBoxCinematography.com.
Copyright © 2012 Black Box™ Cinematography. Patent Pending.
###