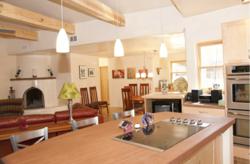 The Attainable Zero Energy Home is Here Today
Santa Fe, New Mexico (PRWEB) February 29, 2012
Natural Homes, of Logic Real Estate, working with Renaissance Builders, are Santa Fe's only builders of energy-efficient, affordability priced homes. The Premier of their latest Zero Energy Home will be held on March 17, 2012 from 4:00 to 7:00 PM. The reception will take place at the newly completed home of the Summa Family on Coyote Ridge Road, five miles west of the Santa Fe Plaza above West Alameda.
Construction of this most recent energy efficient solar home was chronicled in four issues of the The New Mexican's Real Estate Guide. This custom solar home performs at, or near, Zero Energy with the final installation of its solar electric panels. The Summa home proves that it is possible to build "cost-effective" Zero Energy homes. It was constructed at or below the cost of a custom home equivalent, built without energy saving and energy generating features.
The reception titled "The Attainable Zero Energy Home" will be followed by two weeks of Solar Home Tours and Workshops at a nearby Solar Home at 700 Coyote Ridge Road on Sunday, March 18, and Sunday, March 25, from 1:00 to 5:00 P.M. Alan Hoffman of Natural Homes and Dennis Niedermier of Renaissance Builders each have more than 30 years experience in real estate, design, and building science. They and other presenters will inform attendees about technology that makes it possible to build both custom and conventional Solar Homes at roughly the same price as traditional, energy-wasting designs built today.
This year's reception will be co-sponsored by Trend magazine in preparation for the launch this April of their new sister publication EcoTrendSource magazine. EcoTrendSource explores sustainable action in northern New Mexico, emphasizing trends in architecture, design, new energy, green technology and lifestyle. EcoTrendSource also includes interviews with leaders in green technology, families successfully living off the grid, architects and designers. Each issue includes hands-on information to help readers become more conscious of how to live lightly on the planet.
For Information on how to find an Energy Efficient Home in Santa Fe County call Alan Hoffman at 505 316 0449.
###